Eazy Plug Coco Peat Based Propagation Medium with Tray - 12 / 24 / 77 Cubes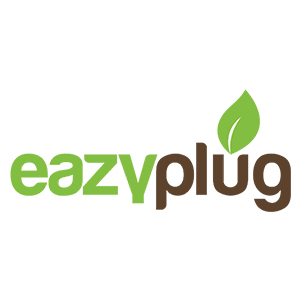 Eazy Plug
IN STOCK
FREE SHIPPING OVER $499*
If cart total is less than $499*
Freight applies
If cart total is $499* &amp above
Free
*excluding bulky items

Calculate shipping
SECURE PAYMENTS WITH

BUY NOW, PAY LATER
Pay in 4, interest-free. Afterpay it.

ZIP NOW, PAY LATER
Repay on a convenient weekly, fortnightly or monthly schedule.

ENJOY NOW, PAY LATER





Eazy Plug's coco peat propagation medium and tray are perfect for all types of cuttings and seeds. The coco material is organic and fully compostable, giving roots the perfect air to water ratio for amazingly fast and vigorous growth. The medium is almost impossible to overwater and easily rehydrated if needed. With Eazy Plug's coco peat tray and medium, you'll get easy and safe transplants into other mediums like rockwool or perlite with your cuttings and clones.
In The Box
[1] x Eazy Plug Coco Peat Based Propagation Medium with Tray - 12 / 24 / 77 Cubes
Eazy Plug: A Highly Effective Rooting Solution
The Eazy Plug rooting plugs utilize organic materials that are carefully formulated to provide an optimal pH and EC level with a balanced air-to-water ratio. This proprietary formulation allows the Eazy Plug to serve as a highly effective rooting solution. It is easy for users to employ - simply ensure the plug can drain excess water to avoid overwatering. The consistent growing conditions within the plug promote extraordinarily fast and robust rooting and germination.
Seed Germination Made Simple
Fully moisten the plug and gently insert your seed into the seed hole. Lightly cover with Eazy Mixx potting soil and mist with water. Be sure to allow for drainage and place in a warm, humid environment. The results will be evident in no time - germination is a hassle-free process using Eazy Plug.
Cuttings Root with Ease
Thoroughly moisten the plug and insert your cutting fully into the provided hole. Place in a warm, humid area where it can drain freely. No additional rooting aids are needed. Eazy Plug takes the work out of rooting cuttings.
Transplanting is a Breeze
The bonded structure of the Eazy Plug remains intact to minimize potential root damage during sorting, transplanting, or repotting. This helps protect the plant's health by reducing stress and risk of disease.
Long Shelf Life for Convenience
Eazy Plug is delivered dried for clean, lightweight transport with no expiration. It readily reabsorbs water to perform as designed. This convenient formulation eliminates waste and provides on-demand use for growers.
How to strike cuttings with Eazy Plug
Step 1: Moisten the Eazy Plug
Allow the Eazy Plugs to fully suck up water with a pH of 5.8.
Let it drain out excess water. Do not squeeze out or dry the plugs. Eazy Plugs are self-regulating and will only hold the water they need for an optimum moisture level and an optimum air-to-water ratio. The plug will feel much heavier than Rock-Wool, but that's normal.
Step 2: Take cutting
Cut diagonally at a 45 degree angle just below a node or stem swelling, making sure to keep at least 3 nodes above your intersection.
Remove all but a couple of leaves. Scrape a little of the outer layer at the bottom of the cutting, but not all around. Cut off ⅓ of the top of remaining big leaves.
Step 3: Root stimulator
If you want to make use of a rooting powder (for example Rhizopon), dip the base of your fresh cut cutting into the rooting powder.
Step 4: Insertion in Eazy Plug
Insert the cutting into the Eazy Plug cutting hole. Make sure to insert it deeply enough, completely to the bottom of the cutting hole.
Step 5: Put into propagator
Put the tray with Eazy Plug into a propagator.
Close the lid of the propagator and shut any present air vents to keep the humidity inside the system.
Step 6: Remoistening and fresh air
Only remoisten the Eazy Plug after 3 days and keep on doing that every 3 days until the first appearance of roots.
Briefly open the propagator every day for a little fresh air.
Open the air vents slightly at the earliest after 4-5 days. Humidity should remain above 80%, as too much loss of humidity can seriously effect your success rate.
Step 7: Assure drainage of excess water
Make sure Eazy Plug is able to drain excess water at all times, so it can always self-regulate the correct amount of moisture. Never let the bottom of the Eazy Plug touch water, as the moisture absorption of Eazy Plug is exceptionally good and the Eazy Plug will quickly become too wet, which will have a negative effect on the rate of success.
Step 8: Open air vents
After the first roots have developed, you can gradually open the air vents further in order to acclimate the cutting to a less humid environment.
Step 9: Transplant
In 7-9 days from start your cutting should have grown its roots throughout the Eazy Plug and it is time to transplant them.
Conditions for developing roots:
1. Temperature: The optimum soil temperature for striking roots is 22º Celsius. Above 23º Celsius, you must consider a rise in failure rate.
2. RH (humidity): RH of 80-95% is perfect. As the cutting needs its energy for striking roots, the moisture level of leaves and stem should remain intact.
3. Light: In the first few days the cutting will form callus, from which the roots will start to grow. In this phase the cutting only needs tempered light with a broad spectrum (regular assimilation light). After the development of roots the amount of light can be gradually increased.