Hydro Experts offers a wide array of reliable and high-performance water chillers and heaters to keep your aquarium, hydroponic grow system, and ice bath at the ideal temperature. Whether you need a TECO water chiller, Hailea chiller, or water heater, we have the solution to meet your temperature control needs.
Our water chillers utilize evaporative condensing technology to provide precise and adjustable temperature control. The Hailea chillers feature a digital thermostat to allow you to set the exact temperature for your system. The TECO chillers offer multiple models with different chilling capacities, making them ideal for aquariums of all sizes.
Our water heaters help maintain optimal water temperatures for hydroponics and aeroponics systems. The aquarium and hydroponic water heaters feature an adjustable digital thermostat and over-temperature protection to ensure safe and reliable operation. The submersible water heaters can be placed directly in tanks for quick and even heating.
We strive to provide the highest quality temperature control products and exceptional customer service. Contact our product experts today to find the water chiller or heater that best meets your specific application requirements. Whether you need an ice bath chiller, aquarium chiller, or hydroponics temperature controller, Hydro Experts has a solution tailored to your needs.
Water Chillers & Heaters by Category
1 Related Content Found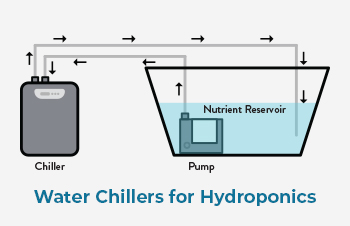 If you're familiar with hydroponics, then you've probably heard of water chillers. But what are they, exactly? Water chillers are mechanical devices used to cool down the water in your hydroponic system; however, their impact goes far beyond simply keeping the wat ...
READ MORE
Q: How often should I change the water in my hydroponics system?
A: For an average-size hydroponic system, it's recommended to change the water every two to three weeks. Smaller hydroponic containers may require more frequent changes.
Q: Can I simply top off the water in my hydroponic tank instead of doing full water changes?
A: Yes, topping off your tank with extra water is acceptable until you need to perform a full water change. Ensure that the added water comes from the same source to maintain consistent pH levels.
Q: What factors affect the rate at which water levels decrease in a hydroponics system?
A: Environmental conditions, such as lighting and temperature, influence water evaporation. Hotter lights lead to faster evaporation. Consider these factors when deciding how often to top off your tank.
Q: When should I consider a full water change due to pH issues in my hydroponic system?
A: If you notice yellowing leaves despite clean water, test the pH and track it. Severe pH imbalances may necessitate a full water change, possibly with a different water source, as different plants require specific pH levels.
Q: How can I prevent harmful algae and bacteria buildup in my hydroponic system's water tank?
A: Maintaining a regular schedule of water changes will prevent harmful algae and bacteria buildup. We, at Hydro Experts, recommend the use of Hydrogen Peroxide (OxyPlus) to flush the system when required.