Phresh Carbon Filter
EXPERIENCE THE PHRESH DIFFERENCE.
Phresh® Filters are state of the art carbon filters that scour the air to make it clean of dust, foreign particulates, organic compounds and odors. Competitively priced, Phresh® Carbon Filters are half the weight, last twice as long and have the largest selection of sizes to choose from. Phresh® Filters rely on the unique properties of RC-48 Australian activated carbon. They are used in research labs, plant breeding, tissue culture, indoor gardening, backyard & commercial greenhouses for their total airstream filtration characteristics. Phresh® Carbon Filters are professional-grade systems designed to meet the demands of serious hobbyists and commercial applications.
Find the best size filter for your application using our CFM calculator.
---
1 Related Content Found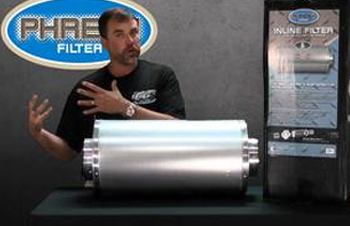 Phresh Filters and Pressure Drop Carbon filters cause a pressure drop across the fan. An unrestricted fan working on full power will give the manufacturer's specified air flow but when a carbon filter is connected to the fan it will reduce the air flow. Phresh Filters have the lowest air flow drop across any fan due to the carbon quality and superior design. The triple activated carbon RC4/ ...
---