Gorilla Grow Hydroponic Tent GGT44 - 122CM x 122CM x (213CM - 244CM) Infrared Blocking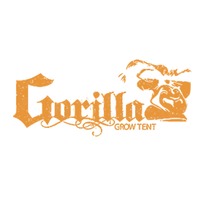 Gorilla Grow Tent (GGT)
REG. PRICE: $664.95
$639.95
SECURE PAYMENTS WITH

BUY NOW, PAY LATER
Pay in 4, interest-free. Afterpay it.

ZIP NOW, PAY LATER
Repay on a convenient weekly, fortnightly or monthly schedule.

ENJOY NOW, PAY LATER





GORILLA GROW TENTS ARE SIMPLY THE BEST GROW TENTS AVAILABLE WORLDWIDE.
Gorilla Grow Tents are professionally designed grow tents that are ideal for experts and perfect for beginners. Double your yields with the first ever height adjusting grow tent. This tallest, thickest, and strongest grow tent can extend up to 8′, 9′, or even 10′ tall! The expert configuration positions ducting ports where they should be. Large EZ View windows offer easy grow snapshots without compromising your environment. The doorways offer 360 degree convenient access. The larger layouts provide frustration free maneuvering. Thick material and large 10″ double cinching ducting ports make maintaining an ideal growing space a snap. Grow easy on yourself. Grow Gorilla.
GORILLA GROW TENTS are the:
TALLEST – Patent Pending adjustable extension poles allow you to increase the height of your grow tent from 7′ to 8′ to 9′ or even 10′ tall.
THICKEST – With a huge thread density of 1680D (compared to 200D – 600D) Gorilla Grow Tents are up to 3 – 9x denser than ANY grow tent ever made.
STRONGEST – Features a solid metal interlocking frame that is up to 2 – 5x stronger than any competitor's grow tent frame. Gorilla Grow Tent frames are so strong they can hold up to 300 lbs.
SAFEST – Patent Pending infrared blocking roof keeps surface temperatures cool. Dense threading and tight seals help contain noise and odor, as well as form a sturdy flood pool that truly holds water.
BEST QUALITY – No plastic anywhere. Biggest zippers on the market. Diamond reflection technology. Double cinching ducting ports. Tool pouch. Bug resistant pre-filters. Sturdy flood pool. Attention to detail EVERYWHERE.
All Gorilla Grow Tent now include a 1 foot extension kit.
WELCOME TO THE NEXT GENERATION OF GROW TENTS.
HEIGHT: GORILLA GROW TENTS feature a patent pending adjustable height extension kit that gives you the ability to increase your growing height from 7" to 8" or even 9" tall. Your plants can grow up to 50% larger. Never again will you have to worry about your plants outgrowing your lights and room. Now you can experience crouch free maneuvering without banging your head on low hanging lights. OTHER TENTS are limited by a standard 6" height. Plants often outgrow their space, yields are smaller as a result, and your back and head pay the price as you hunch over in your grow room banging your head against hoods.
THICKNESS: GORILLA GROW TENTS are made with 1680D threaded, reflective fabric, which is up to 3 – 9x denser than any other grow tent. This means that they are more light proof, more durable, quieter, stronger, safer, and easily create an indefectable growing environment. In addition, the unique "diamond" reflective walls provide greater reflectivity and even lumen redistribution, thus preventing hotspots. OTHER GROW TENTS range from only 190D – 600D in thinness. This means that they will rip easily, leak light more readily, permeate unwanted odors, and offer problematic growing environments. Their inadequate thread density presents an unnecessary risk of dangerous hazards such as flooding, and their old fashioned swirl reflection design creates hot spots and does not effectively utilize rogue lumens.
STRENGTH & DURABILITY: GORILLA GROW TENT frames are up to 2 – 5x stronger than any other grow tent. The poles are 100% metal and each has fasteners that securely lock your structure in place. These tents are so sturdy that the Big Bad Wolf will not be able to blow your grows down. In addition, we have utilized thick viewing windows, tightly reinforced seals, and strong zippers and fabric providing unparalleled durability and security. OTHER GROW TENTS use fragile plastic, aluminum, or at best, extremely thin steel poles. Plastic corners and connectors frequently crack or break putting your grows at great risk. Other tent perils include faulty zippers, loose ducting seals, and the uber irritating tearing seams.
SAFETY: GORILLA GROW TENTS feature the sturdiest and most durable flood pool that will genuinely hold water. The density of the thread makes the entire structure "ripsistent." Gorilla Grow Tents minimize noise, are smell resistant, light proof, and feature a patent pending Infrared Blocking insulated roof that cools down the exterior of your tent. OTHER GROW TENTS make no effort to cool down surface temps and as a result produce off the chart heat. Their thin fabric and single-line sewing equates to light, odor, and water leaks, and overall poor climate control.
Specifications
Dimensions: 122CM x 122CM x 213CM
Height w/ Extension Kit: 244CM
Weight: 23KG
Canvas Density: 1680D
Pole Diameter: 19mm
Door Quantity: 1
Ducting Port Diameter: 250MM Double Cinching
Ducting Port Quantity: 4
Electrical Port Quantity: 3
In The Box
[1] x Gorilla Grow Tent 4 x 4 - 122CM x 122CM x (213CM - 244CM)
Every Gorilla Grow Tent Comes with the Following:
100% Metal interlocking, sturdy frame & connectors.
Free 12″ Height Extension Kit
1680D "Easy On" grow tent
Infrared Blocking Roof Insertion
Convenient Access Tool Pouch
Heavy Duty Flood Protection Pool
10″ Double Cinching, No Leak Ducting Ports
Thick "Easy Engage" Zippers
360 Degree "Wrap Around" Access
Micro Mesh Pest Control Pre-Filters
Easy set up instructions
Tender Love & Care For All of Your Grows