In the ever-evolving world of indoor gardening, the key to success lies in providing your plants with the right environment and, most importantly, the right lighting. For over a decade, Mars Hydro has been at the forefront of this endeavour, specializing in LED grow lights and grow tents since 2009. With a commitment to quality and innovation, Mars Hydro has become a trusted name among growers worldwide.
Choosing the Right Light for You
With such a diverse range of LED grow lights, it's important to select the one that suits your specific needs. Mars Hydro offers various models in each series to cater to different grow spaces and plant types.
Mars Hydro FC Series: Choose from options like FC-3000, FC-4800, FC-6500, FC-8000, and FC-1000W CO2 Plus for superior full-spectrum lighting.

Mars Hydro FC-E Series: If you're budget-conscious, explore the FC-E series with models like FC-E 3000, FC-E 4800, FC-E 6500, FC-E 8000, and FC-E 1000W, offering exceptional value.

Mars Hydro TS Series: The revamped TS series includes TS600, TS1000, TSW2000, TSL2000, and TS3000 models, catering to various grow space sizes and requirements.

Mars Hydro SP Series: For those with tall plants or greenhouses, the SP series offers the SP 150, SP 3000, and SP 6500 models, ensuring powerful light penetration.
1 Related Content Found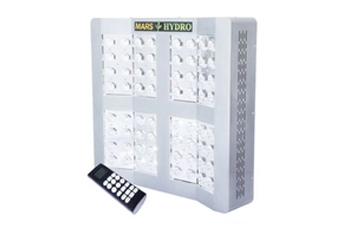 Cree and Epistar LED chips both are widely used in LED displays. Most LED display companies buy chips or lamps from them. Cree is good quality and the price is just OK but a little high on the market, most hig ...
READ MORE
Mars Hydro's Vision
Mars Hydro was founded with a clear vision: to provide affordable yet high-quality LED grow lights to meet the diverse needs of growers around the world. Over the years, they have meticulously developed several lines of grow lights to achieve this goal.
Full-Spectrum Brilliance
Mars Hydro's commitment to excellence is evident in its flagship line, the Mars Hydro FC series. These LED grow lights utilize Samsung LM301B and Osram chip/diode technology, delivering exceptional high efficacy of up to 2.9μmol/j. This means that your plants receive the full spectrum of light they need for robust growth.
Value Meets Performance
For growers seeking the best value for their money, the Mars Hydro FC-E series is a standout choice. With BridgeLux 2835 chip/diode technology and an impressive efficacy of up to 2.7μmol/j, these lights offer an unbeatable combination of affordability and performance.
Technological Advancements
In 2023, Mars Hydro revamped its TS series with cutting-edge LED technology, improved cooling performance, and smarter wiring. This update enhances the user experience, making it easier than ever to nurture your plants. The patented aluminium reflector design and the reliable BridgeLux 2835 chip/diode technology remain unchanged, ensuring consistent quality.
Power and Penetration
For those growing taller plants or managing a greenhouse, the Mars Hydro SP series is a game-changer. These LED grow lights are designed to provide high light penetration and powerful illumination. Just like the FC series, the SP series also utilizes Samsung LM301B and Osram chip/diode technology, guaranteeing impressive results.
Q: Is the Shipping and Packaging Discreet?
A: Yes, our shipping is discreet. We package all our items with plastic foam to protect them and maintain discretion. There are no labels mentioning "grow lights," "grow tents," or brand names on the packages.
Q: Do Mars Hydro FC & FC-E Lights Include Infrared and UV?
A: The Mars Hydro FC & FC-E series LED grow lights do not include UV & IR. You can complement your setup with Mars Hydro UR45 UV IR lights.
Q: Why is Your Price Higher Than marshydroau.com?
A: marshydroau.com is not an Australian company and lacks an ABN. They are not obligated to pay GST and other taxes. With minimal overhead costs, we cannot match the pricing of marshydroau.com.