Max-Fan Pro 200MM 718CFM + Can-Lite 1500 Carbon Filter 589CFM + 5M Duct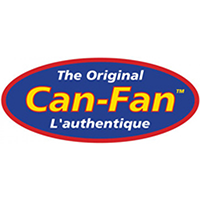 Can-Fan
SECURE PAYMENTS WITH

BUY NOW, PAY LATER
Pay in 4, interest-free. Afterpay it.

ZIP NOW, PAY LATER
Repay on a convenient weekly, fortnightly or monthly schedule.

ENJOY NOW, PAY LATER





Max Fan Pro - 200MM (8" Inch) | Made in Germany
Introducing the next generation of the highly successful Max-Fan series.
The two-speed easy operation button makes the pro series the best value fans in our market.
The new tough polymer casing adds a new degree to the product durability.
The all new 3D rotor stator motor is even more efficient, higher air flow, and yet quieter
The contrasting yellow and black colours make a statement of quality and reliability comparable to high-end machinery.
Specifications
Max. Flow Rate:

High: 1220 m³/h (718CFM)
Low: 793 m³/h (466CFM)

RPM: 3288
Watts: 117
Amps: 0.6
Duct Size: 200mm
Blade Design: Diagonal / Mix Flow
Housing: Plastic
Weight: 4.4 kg
Can-Lite 1500 Carbon Filter - [Flange Size: 200MM (8" Inch)]
The Can-Lite carbon filter is the latest addition to the Can-Filters Carbon filter range. Recently released after years of testing and research, the Can-Lite has been developed with ease of installation, durability, and effectiveness in mind.
The Can-lite is manufactured using a similar process to Can-Filter 'Classic but instead using a highly perforated, light aluminum casing and a special grade of virgin CKV-4 carbon. This allows the filters to be lighter and handle larger air flow rates without any odor breakthrough.
Model: 1500
Filter Height (mm): 750
Outside Diameter (mm): 300
Weight (kg): 18
Thickness of Carbon (mm): 50
Carbon Type: CKV-4 light
Pre-Fitted Flanges (mm): 200
Max Flow Rate : 589CFM
Max Operating Temp: 80ºC
Max Relative Humidity: 70%
Recommended Fan:
Black PVC Coated Dual Layer Air Duct - 5 Meters | 203MM (8" Inch) | Ventilation
5 Metre Length
High Quality Air Ducting
Dual Layer Construction
Small Ribbed Silver Inner
Black PVC Wrapped Outer
Completely Light Tight
No Pin Holes or Air Leaks
Silver Foil Aluminium Insulation Duct Tape - 50MM x 50M | 30mu
A heavy duty heat resistant aluminum tape for repairing ducting.
Has pressure sensitive backing for durability and easy application.
Quick Release Clamp 203MM (8" Inch)
Quick release stainless steel hose clamps. Just release the tension on the screw and flip up to instantly release the clamp. Allows for easy removal of the clamp for quicker flex duct removal when cleaning the glass in your air cooled fixture or accessing your lamp.
In The Box
[1] x Max-Fan Pro - 200MM (8" Inch) | 718CFM
[1] x Can-Lite 1500 Carbon Filter - 8" Inch (200MM) | 589CFM
[1] x Black PVC Coated Dual Layer Air Duct - 5 Meters | 203MM (8" Inch) | Ventilation
[1] x Silver Foil Aluminium Insulation Duct Tape - 50MM x 50M | 30mu
[1] x Quick Release Clamp - 203MM (8" Inch)