If cart total is less than $499*
Freight applies
If cart total is $499* &amp above
Free
*excluding bulky items

Calculate shipping
Product Information
This item is discontinued by the manufacturer.




[1] x Flexstar Integrated 3-Mode Adjustable DE Reflector & Ballast - 1000W
These FlexStar Gavita style Double Ended Reflectors are the most powerful and sophisticated indoor grow light available. In greenhouse areas where this unit is being used as supplemental lighting, it can cover up to a 3M x 3M (10' x 10') area. If used as a primary light source, the Flexstar Double Ended fixture can cover up to a (1.8M x 1.8M) 6' x 6' area.
The newest technology in High-Pressure Sodium and Metal Halide are the Double Ended HPS and MH bulbs. These bulbs degrade slower than traditional single ended HPS bulbs. In fact, after 10,000 hours double ended lamps will still output approximately 90% of their original intensity. Double Ended HPS bulbs are also more stable than traditional single ended HPS bulbs, and this allows them to have a 10% increase in light intensity and PAR output over traditional single ended HPS bulbs. Lastly, Double Ended HPS bulbs emit more UV and IR light than traditional single ended HPS bulbs, increasing the potency and essential oils of oil producing plants.
A 3-Mode adjustable function, by switching these models, beam angle and light spread area can be easily adjusted for different usage;
Vega embossed aluminum; 95% reflective!
Full fixture for 1000W Double ended lamps, including high-efficiency horticultural reflector
No acoustic resonance, more than 8% grow light compared to traditional lamps
Light maintenance after 5000 hrs > 95%
Dimmable digital ballast Output adjustable to 600W/750W/1000W/1150W
The ballast will run on either 120V/240V
1 Year Warranty
FlexStar allows growers to create ideal lighting condition across all stages of plant growth for increased vitality health and yield. It's the first reflector in the market that can be adjusted to control the area of light spread. By this unique design, FlexStar can boost the power and efficiency compare with most other reflectors, increase the growing area and yield.
[1] x Gavita Philips Master GreenPower Plus Lamp - 1000W | 400V
Professional European 1000W high-frequency horticultural lamp
No wireframe, quartz glass outer bulb for perfect optical quality
Double ended, K12 x 30S lamp base for accurate lamp positioning
Extremely high photosynthetic photon flux (ppf): 2100 μmol (see specs)
Only suitable for high frequency, high voltage Electronic ballasts (Gavita Pro series)
1-year warranty on suitable electronic ballasts (Gavita Pro series)
Specifications:
Brand: Gavita
Type: Pro EL 1000 Watt
Power: 1000 Watt
Lamp base: K12 x 30S
Grow light (µMol): 2100 μmol
Voltage: 400V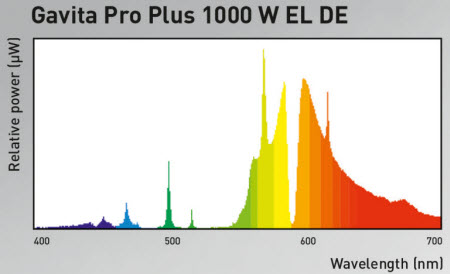 In The Box
[1] x Flexstar 3-Mode Adjustable DE Reflector & Ballast - 1000W | 120-240V
[1] x Gavita Philips Master GreenPower Plus Lamp - 1000W | 400V