Cree and Epistar LED chips both are widely used in LED displays. Most LED display companies buy chips or lamps from them. Cree is good quality and the price is just OK but a little high on the market, most high-grade customers choose Cree. The most common-used brands of a LED diode are Epistar made in Taiwan and the quality of these LED chips are judged mainly by 3 criteria, which is brightness, attenuation and viewing angle.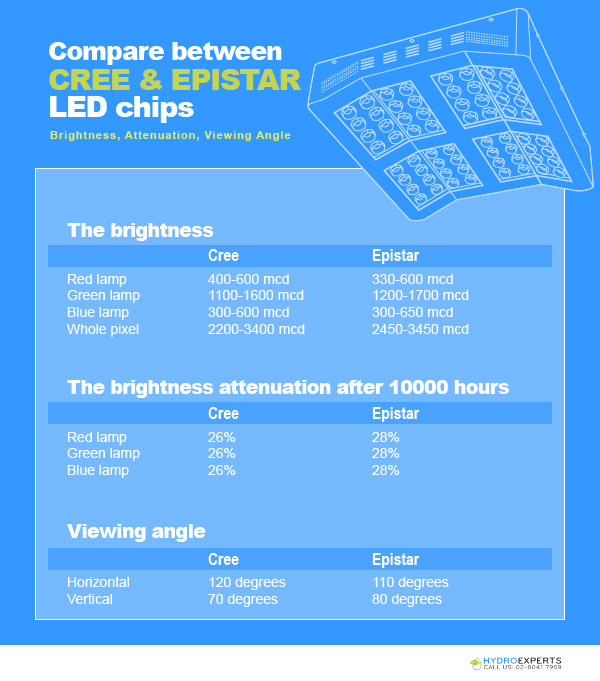 Accumulated Expertise & expansive capacity makes Epistar LED's Brightest Link
Epistar's is a pivotal element of our products offering the brightest solid-state lighting while maintaining competitively priced. Today that era is fast approaching full-bloom, and Epistar is more equipped than ever to supply the highest PAR values per watt in the world. Together Epistar's unmatched intensity and Mars Hydroengineering offers you the most advance horticultural lighting today!<
The Industry's Best just got Better, Cree Extreme-High-Power XHP LED
Reliable American made Cree LED's have twice the PAR value of comparable LEDs' at a 40% lower energy consumption. Take advantage of the broad spectrums and intensity per watt with Cree's XHP LED'. When you have to have the absolute best, go the USA, go Cree with confidence.
Shop lights with Cree LEDs: Here
Shop lights with Epistar LEDs: Here