Spider Farmer SF 4000 | Dimmable Full Spectrum LED Grow Light
True Watt 450W | Samsung LM301B Chips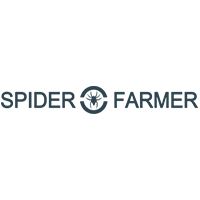 Spider Farmer

If cart total is less than $499*
Freight applies
If cart total is $499* &amp above
Free
*excluding bulky items

Calculate shipping
SECURE PAYMENTS WITH





Why Choose the SPIDER FARMER SF4000 Full Spectrum LED Grow Light?
If you're a serious grower looking for a high-quality LED grow light you can't pass up the new Spider Farmer Dimmable Range of full-spectrum LED grow lights.
They are ideally suited for every growth stage including Propagation, Seedlings, Vegetative Growth Cycles, and Flowering.
All Spider Farmer Grow lights ship with stainless steel hanging hooks and adjustable rope hangers.
Ideal for a 120x120 or 150x150 Grow Tent | Check out our ULTIMATE ALL IN ONE LED Tent Kits
High energy efficiency of 2.7umol/J
SAMSUNG LEDs currently have the highest light output on the market
Meanwell Dimmable Driver

plus the ability to daisy chain multiple lights

Quantum Board fanless design.

Low Heat and Low-cost. No Fan = No Noise!

Ideal Sunlike Spectrum

for consistent, high-quality crops and Better Canopy Light Penetration

40% higher yields

are possible with less energy compared with other red-blue lights.

Assembled, Ready to Plug-and-Play
Rated for 50,000 hours —

4-5 years with no bulb changes
Are you looking for more information on LED Grow lights? Check out our article below our comprehensive guide to choosing the right light for your grow.
10 tips for choosing an LED Grow light



LED grow lights bring definite benefits, but choosing the right product usually proves to be quite challenging. The wide array of models available on the market, confusing statements from manufacturers and misleading product descriptions are some of the main reasons behind this.





Read more here
How to distinguish legitimate Samsung diodes?

Samsung diodes use a unique "Flip Chip" where a gold wire is not visible. Other uses cheap diodes or fake Samsung diodes and, gold wire is visible.

Laser X-RAY code on the back of the Authentic Samsung diodes.
Make sure you purchase LED lights with authentic Samsung diodes.
Specifications
Specification: SF-4000
Spectrum: 660-665nm, 3000K, 5000K, IR 760nm
Par value Par Value: 1217umol/s
Lumen:

79296Lm±5%@AC120V
79095Lm±5%@AC240V
79395Lm±5%@AC277V

Actual power draw: 456.9W±5%@AC120V
Coverage:

Veg: 150x150CM
Flower: 120x120CM

Light Size: 648 x 536 x 59MM
Packing Page Size: 723 x 610 x 115MM
Net Weight Net: 6.58KG
Gross Weight: 8.77KG
Voltage: AC100-277V Current
Amp:

3.787A@AC120V
1.864A@AC240V
1.641A@AC277V

Frequency: 50/60HZ
Operating temperature: -20-35 degrees C
Number of LEDs: Total: 1212 pcs
Light source: Samsung & OSRAM Diodes
Life: 50000H
Noise value DB: 0d
In The Box
1 x SF4000 LED Grow Light
2 x Stainless Steel Hanger Hook
[1] x Pair of Rope Ratchet (Hanger) - 68KG Capacity
1 x User Manual for Installation
1 x Power Cord
Lower Running Costs & Higher-quality Yields:
Spider Farmer LED Grow Lights utilize the latest in high yielding LEDs technology today-Samsung LM301B diodes, high Energy Efficiency with 2.7 umol/J, create better canopy light penetration. SF4000 only consumes 450w, running 50% less power than the HPS or Blurple lamps, and still was 50% more harvest. The veg footprint is 5 x 5 ft, Flowering footprint is 4 x 4 ft.
Customized Dimming Design:
Upgraded SF series growing lights have a dimming knob and light switch. A single light can be adjusted to the light intensity at liberty. Multi-light Connection with unified dimming is especially beneficial for large areas of indoor growing and commercial planting.
Ideal For All Growth Stages:
Excellent full-spectrum- white, blue, red, and IR (3000K, 5000K, 660nm, and IR 760nm). 3000K diodes providing more reddish light and 5000K providing more blueish. The 660nm red and IR light is especially useful during bloom, where it speeds up flowering time and boosts yields. Turn your seeds into your own supply. And the light looks fairly natural, so it's good for accurately monitoring plant health.
Well Made & Solid Construction:
No Fan Noise Free. High Safety performance MEAN WELL Driver, Fair Waterproofing. Update aluminum board is thick and sturdy, doesn't put out a tremendous amount of heat, high-quality protective covers for cables; User-Friendly Packaging. Quality components mean the light lasts longer, but they also save you money.
Value For The Money:
Spider Farmer LED Plant Lights are often copied but will never have our quality or commitment, we provide 5 years of after-service of local maintenance center(US/CA/UK/DE). Make sure you purchase authentic Spider Farmer grow lights, which really can give you a need from high-quality grow lights – at a price that is affordable. For any questions, feel free to e-mail us and we will help you resolve them. Quality backed by our ironclad!!!
Do NOT touch while in operation.
To prevent eye damage, avoid looking directly at the LEDs.
In summer or other hot environment, please use a cooling fan to keep a suitable temperature for your plants.
90 days ALL FREE warranty. Free components, repairing and service can be provided within 3 months after delivery.
3 month -1 year : Free components but buyer needs to pay 1 way shipping fees and repairing fees.
1 year - 3 years : Free components but buyer needs to pay 2 way shipping fees and repairing fees.
3 years of free components can be provided.