Products You May Also Need
Product Information
This item is discontinued by the manufacturer.
Buy now, pay later
Shop up to $1000, pay later
​The digital electronic ballast is a new alternative to previous heavy, noisy, and high power-consuming "core and coil" ballasts. Electronic ballasts are lighter, smaller, more energy-efficient with higher lighting quality and increased garden yields. This ballast features a dimming switch that enables it to run at various light outputs. This makes it easier for young plants to adapt at various stages of their life cycle and decrease energy consumption in the process.
The ballast is compatible with both metal halide (vegetative) and high-pressure sodium (flowering) bulbs. The electronic ballast operates at a high frequency (20,000Hz) which in turn allows the lamp to operate more efficiently, produce more usable light for plants and have a longer lifespan. Lamp lumen loss is minimized allowing for a brighter system and higher yields.
Specifications
Operates from 120v to 240v, 50 hertz to 60 hertz
High-frequency output, 99.9% Power factor
Soft start technology to extend the lifetime of bulbs
Compatible w/both standard and double ended lamps
Fully converts between hps and mh lamps
Dimmable lighting control-60%, 75%,100%, Super power level
Short circuit protection; ignition failure protection
Overheating protection; end-of bulb-life protection
8 ft heavy duty power cord included
3 Year warranty, hassle-free
WORKS WITH BOTH HPS+MP LAMPS
In The Box
[1] x Powerlux Line Dimmabe Electronic Ballast - 400W | 240V | HPS | MH
We Also Recommend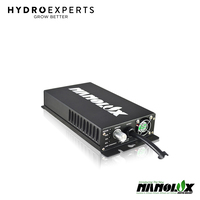 You May Also Like