Can-Fan RK200S Centrifugal Speed Adjustable Fan + Can-Lite 1000 Carbon Filter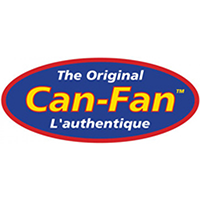 Can-Fan
OUT OF STOCK
FREE SHIPPING
SECURE PAYMENTS WITH

BUY NOW, PAY LATER
Pay in 4, interest-free. Afterpay it.

ZIP NOW, PAY LATER
Repay on a convenient weekly, fortnightly or monthly schedule.

ENJOY NOW, PAY LATER





The Original Can-Fan RK200S Centrifugal Fan
The precise 4 speed control position enables the grower to allow for seasonal variation, yet still offer ultra reliable performance.
Fans with dimmer type switching can be set on unsuitable inefficient positions which can lead to fan failure. The German fan technology along with the Dutch growing experience have combined to find 4 lock in speed settings for each model that are not only beneficial in crop climate control but also assure the grower of safe reliable performance.
Diameter MM: 200
Max. Output (m³/hr): 820
CFM: 483
Important information in selecting the right fan for the job:
Fitting a carbon filter will decrease the fan output by around 20%
Always aim to replace the air in a room every 2-3 minutes
200MM (8" Inch) Dutch Original Can-Lite 1000 Carbon Filter 530CFM
The Can-Lite carbon filter is the latest addition to the Can-Filters Carbon filter range. Recently released after years of testing and research, the Can-Lite has been developed with ease of installation, durability and effectiveness in mind.
The Can-lite is manufactured using a similar process to Can-Filter 'Classic but instead using a highly perforated, light aluminum casing and a special grade of virgin CKV-4 carbon. This allows the filters to be lighter and handle larger air flow rates without any odor breakthrough.
Light weight
Can handle relatively high (fan) flow rates
Flanges are pre-fitted to the filter
Packaged in their own individual carton
Pre-filter included
Specifications
Outside Diameter: 300mm
Max Flow Rate: 250 L/S or 530CFM
Height: 500mm
Total Weight: 12kg
Thickness of Carbon Bed: 50mm
Installation : Vertical or Horizontal
Activated Carbon Type : CKV-4 light
Max Operating Temp: 80ºC
Max Relative Humidity : 70%
Pre-Fitted Flange Size: 150, 200 or 250mm
In The Box
[1] x Can-Fan RK 200S Fan 200MM
[1] x Can Lite 1000 Carbon Filter 200MM 530CFM