Apera Instruments TDS Tester Kit w/ Auto Calibration - TDS20 | IP67
Tester is packed in carry case with calibration solution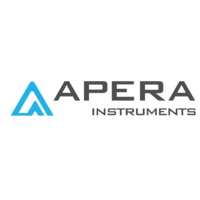 Apera Instruments
IN STOCK
FREE SHIPPING OVER $499*

If cart total is less than $499*
Freight applies
If cart total is $499* &amp above
Free
*excluding bulky items

Calculate shipping
SECURE PAYMENTS WITH





The Apera Instruments TDS20 Value Pocket TDS Tester is simply the most reliable pocket conductivity ppm tester/meter with the best value for all kinds of routine testing, including tap water/drinking water testing, agriculture, aquaculture, swimming pool, education, etc.
The unique platinum black conductivity probe technology ensures wide range measurement with accuracy and consistency.
An ultra clear 180˚ viewing angle screen with temp./TDS value dual display and indications of completed auto calibrations and stable readings.
Complete kit with calibration solutions (1413 µs and 12.88 mS), AAA batteries, and a lanyard all in a rugged carrying case.
1-2 points auto calibration and 0 to 50˚C auto temp. compensation, ±1% F.S accuracy with 0 to 20.00 mS/cm wide conductivity measuring range
Self-diagnosis with an out-of-range warning and incorrect calibration reminders.
IP67 Water-proof and dust-proof, floats on water so no need to worry if you drop it in the water by accident.
200 hours' continuous operation powered by AAA batteries (with low power warning and auto power off in 8 min if no operation).
Documents

Download PDF brochure
Specifications
Model: TDS20
Measure: TDS ºC

Range:

0 - 100.0ppm
0 - 1000ppm
0 - 10.00ppt

Resolution: 0.1/1ppm;0.01ppt; 0.1ºC
Accuracy: ±1% F.S
ATC: 0 to 50 °C (32 to 122°F)
Calibration: Automatic 1 to 2 points

Measure: Temperature

Range: 0 to 50°C (32 to 122°F)
Resolution: 0.1°C
Accuracy: ±0.5°C

LCD: 180° Viewing Angle LCD
Stable Reading Indication: Smiley Face icon
Low-Battery Warning: Battery icon flashing, reminder of battery replacement
Self-Diagnosis: Yes
Heads-Up Function: No
Auto. Power-Off: Yes, auto power-off in 8 minutes without operation
Waterproof Rating: IP67; Floatable
Power: DC3V, AAA batteries*4
Battery Life: Continuous operation up to 1000 hours
Dimensions& Weight: Tester: (40*31*178) mm/ 107g With case_(190*165*40) mm/ 438g
In The Box
[1] x Apera Instruments TDS Tester Kit w/ Auto Calibration - TDS20 | IP67
2-Year Replacement
Warranty If the product is faulty within the warranty period, the product will be replaced with a new one.
Please send the product to the following address on the contact us page.