Vertical Farming Market: Basic Influencing Factors, incredible possibilities and detail analysis
By SAMBIT KUMAR 17 October 2017
Vertical farming is a revolutionary approach used to produce food and medicinal plants in vertically stacked layers such as in a skyscraper, used warehouse, or shipping container. It facilitates huge quantity of nutritious and quality fresh food without relying on favorable weather, high water usage, skilled labor, and high soil fertility. Moreover, it ensures reliable yield and consistency in crop production round the year along with climate control, and no effects of external environment factors such as diseases, pests, or predator attacks.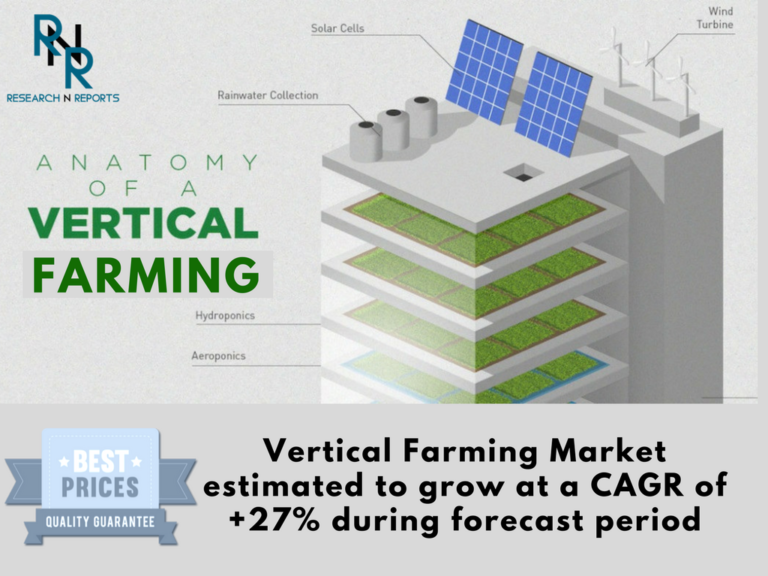 Vertical Farming Market estimated to grow over $6.81 billion at a CAGR of +27% during forecast period
Vertical Farming market research is an intelligence report with meticulous efforts undertaken to study the right and valuable information. The data which has been looked upon is done considering both, the existing top players and the upcoming competitors. Business strategies of the key players and the new entering market industries are studied in detail. Well explained SWOT analysis, revenue share and contact information are shared in this report analysis.
Companies Profiled in this report includes, Aerofarms, Everlight Electronics, Illumitex, FarmedHere, Koninklije Philips N.V., and American Hydroponics.
In the technique of vertical farming, the components and fixtures are combined with different growth mechanisms. These components are lighting components, hydroponic components, climate controls, and sensing devices. The replacement of traditional lighting with LED grow lights has led to the domination of lighting components in the market. However, the climate control devices are estimated to grow at the highest CAGR, primarily because these devices are one of the vital requirements for the system in order to manage and customize the environment for growth.
The report on the Global Vertical Farming market is a scrupulous piece of work and is assembled by conducting both primary and secondary research. The market dynamics such as market drivers, challenges, opportunities, and trends have been presented coupled with their respective impact analysis. The data comprised in the report has been taken by accessing case studies, and by taking contributions from top diligence leaders.
Reasons for Access Vertical Farming Market Research Report:
In this effective research report information about the key players including their revenue, product portfolio, business segmentation, and financial overview has been included. The research report analyzes the global Vertical Farming market in a detailed manner by explaining the key aspects of the market that are expected to have a quantifiable influence on its developmental prospects over the forecast period. The report analyzes the entire demand and supply chain in the global market and further studies the various components. The global Vertical Farming market has been examined thoroughly on the basis of key criteria such as end user, application, product, technology, and region. An analysis has been provided in the report of the key geographical segments and their share and position in the market. The estimated revenue and volume growth of the global market has also been offered in the report.