Quest 70 Overhead Dehumidifier - 26L / Day | Made in USA
Capacity 70 Pints/Day | Efficiency 5 Pints/kWh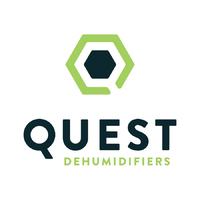 Quest Dehumidifers
If cart total is less than $499*
Freight applies
If cart total is $499* &amp above
Freight applies
*This item is bullky so freight applies.

Calculate shipping
SECURE PAYMENTS WITH

BUY NOW, PAY LATER
Pay in 4, interest-free. Afterpay it.

ZIP NOW, PAY LATER
Repay on a convenient weekly, fortnightly or monthly schedule.

ENJOY NOW, PAY LATER





Unleash the Power of Quest 70 Dehumidifier
Superior Moisture Control
Experience the ultimate in humidity control with the Quest 70 dehumidifier. Designed to remove a whopping 70 pints of moisture per day, this compact powerhouse is a game-changer. Say goodbye to the discomfort of excessive humidity and the damage it can wreak on your indoor spaces.
Energy Efficiency Redefined
Quest takes pride in crafting the most energy-efficient dehumidifiers on the market. With Quest 70, you not only get superior moisture control but also save on electricity bills. Its innovative design ensures it removes more pints of water per kWh, even across a wide temperature range. Invest in Quest 70, and watch it pay for itself through years of energy savings.
Unmatched Quality, Made in the USA
When you choose Quest, you choose American quality. Every Quest product, including the Dual 70, is proudly manufactured in the USA. We use only the finest components and materials, ensuring durability and reliability that's second to none. And to prove our commitment to excellence, every Quest dehumidifier comes with a generous 5-year warranty.
The Quest Advantage for Cultivation Facilities
Elevate Your Growing Environment
For cultivation facilities, maintaining precise humidity levels is non-negotiable. Quest dehumidifiers are your trusted partner in creating the perfect environment for your plants. Say goodbye to mold and disease concerns, and say hello to enhanced plant growth. Join the ranks of medical-grade cultivation facilities worldwide that rely on Quest for their success.
Lighten the Load on Your HVAC
One of Quest's standout features is its innovative design, which generates the lightest heat load on your HVAC system. This means not only energy savings but also reduced strain on your HVAC equipment. With Quest, your dehumidifier investment doubles as an HVAC-friendly choice, contributing to long-term cost efficiency.
Maximize Your Grow Space and Profits
Quest understands that space is at a premium for growers. With its overhead mount capability, Quest dehumidifiers allow you to maximize your grow space, ultimately boosting your profits. Don't let space constraints limit your potential; let Quest help you expand your cultivation horizons.
Quest for Success - From Germination to Harvest
A Vital Role in Gardening Success
From germination to harvest, Quest dehumidifiers play a pivotal role in your gardening success story. They maintain an optimal growing environment that's essential for indoor and hydroponic gardening triumphs. Protect your investment, your plants, and your profits with Quest—the name trusted by gardening professionals worldwide.
Built to Exceed Standards
When it comes to construction, Quest doesn't cut corners. Our dehumidifiers are proudly made in Madison, WI, and they meet or exceed the highest industry standards, with ETL listing and UL certification. Rest easy knowing that Quest's reliable construction is backed by an industry-leading warranty, providing you with peace of mind for years to come.
Important Note: Check out the link below for maintenance tips and instructions to keep your Quest 70 dehumidifier operating at its best. - Click HERE
Specifications
Unit: Quest 70
Part Number: 4033750
Blower: 255 m3 /hr | 150 CFM @ 0.0" WG
Power: 480W
Supply Voltage: 230 VAC - 1 Phase - 50 Hz.
Amps: 2.1
Energy Factor: 2.2 L/kWh
Operating Range: 5°C to 35°C
Air Filter: MERV-13 Size: 23cm x 28cm x 3cm
Drain Connection: 3/4" Threaded NPT
Refrigeration Type: R410A
Refrigerant Amount: 15oz. (444ml.)
Minimum Performance @ 26°C and 60% RH:
Water Removal: 70 Pints/Day | 26L/Day
Efficiency: 5.0 Pints/kWh
Unit Dimensions:
Width: 35CM
Height: 31CM
Depth: 54CM
Weight: 25KG
In The Box
[1] x Quest 70 Overhead Dehumidifier - 26L / Day
Energy Star Listed
Large Capacity
MERV-13 Filtration
Low Temperature Operation
Low Voltage Control
Carbon Filtration