PureCrop1
By PureCrop1 11 February 2022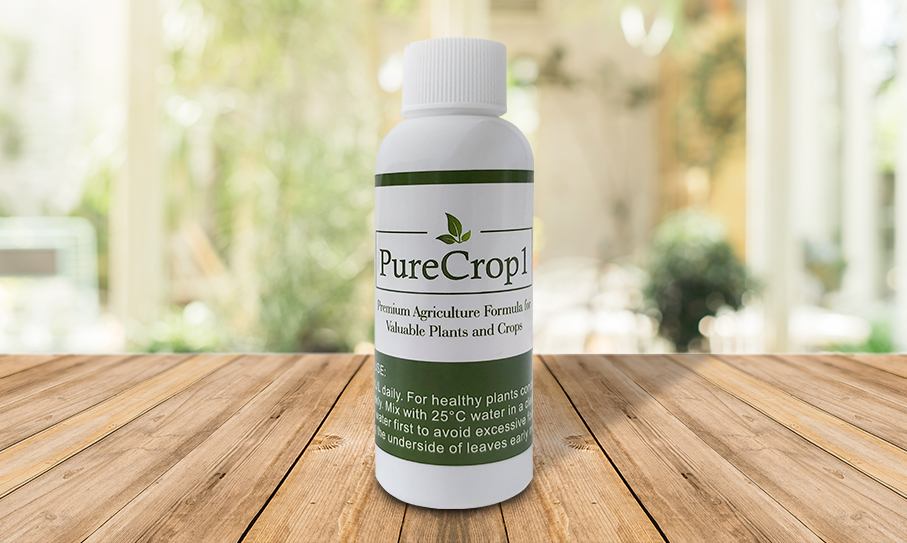 PureCrop1 uses advanced biochemistry to naturally eliminate pests, mold, and mildew while increasing plant health.
Simplify your routine with a powerful insecticide, a potent fungicide, and a multi-faceted IPM addition, packed in one organic, plant-based formula.
Although it's active ingredients are corn and soybean oil, PureCrop1 is not oil; it's a clever rearrangement of the colloidal micelle and their electrical charge.
The micelle measures between 1-4 nanometers and does all the work. When it comes to sap-sucking pests, unlike oils that act as a suffocant, the micelle is attracted to the bacteria in their gut. It will go through the cellular wall of the insect and disrupt the enzymes there.
PureCrop1 works against mold and mildew by membrane disruption. Thousands of micelle tear out a piece of the cell wall and cause the cells to leak out, effectively sterilizing the spore. The micelle also leaves a thin physical barrier that blocks the anchor site where mold and mildew would attach, preventing it from growing for up to ten days.
Features
All plant-based ingredients
Approved for organic use
Test clean parts per billion
Can be used up to the day of harvest
No phytotoxicity
No change in color or flavor
Targets all sap-sucking insects
Targets all plant mold, mildew, and bacteria
Increases Brix levels
Benefits
Organic Approved
Made with food-grade ingredients
Does not harm beneficial insects
100% friendly to people, animals, and the environment.
What's in the package?
Liquid concentrate.
Weight per gallon: 8.6-lbs
Total Tote Weight: 2,605-lbs
Pallet of 2.5-gallon bottles has a total of 36 cases equalling 72 individual bottles weighing a total of 1,660-lbs.
Suggested Use
Mixing: Fill a container with fresh, clean water. Add PureCrop1 concentrate. Shake or stir. Spray or use as a root drench.
Dilution Rates: Pest/Mold/Mildew Control - 1%-2% solution every 7 days. Increase frequency and ratio to 2% when pressures rise.
To maintain long-term benefits, spray 2 oz per gallon once a week.
Use as your dormant spray at 2 quarts per 100 gallons with other chemicals or 1 gallon per 100 gallons by itself. Apply less product and achieve better results
The more prolonged PureCrop1 is on the plant, the higher the efficacy rate. Accordingly, we suggest spraying either early morning or late afternoon as the formula quickly dries when sprayed in direct sunlight or heat.
If there is rain in your forecast, apply a foliar spray on your plants at least two hours before rainfall to protect them from pest, mold, or mildew and reduce yield loss. Rainfast within 2 hours, PureCrop1 defends the integrity of your crop through the storm.
Notes on Nanotechnology
Gentle enough for young plants, seedlings, and sensitive varieties
A natural emulsifier that is compatible with all other garden products
Although made from oils, PureCrop1 is not oil; it's a clever rearrangement of nanoscale molecules and their electrical charge.
Even diluted with water, PureCrop1 will never separate. Instead, the charged micelle constantly fight against each other, keeping the formula mixing indefinitely.
Use it as a wetting agent/adjuvant mixable with any other garden products at low dilution rates.
Notes on Colloidal Chemistry
We create the colloidal micelle naturally using food-grade oils and organic acid.
Our formula utilizes renewable plant-based materials such as grains, beans, and citrus.
Solid particles are attracted to the micelle and held in suspension. Any wash-off completely biodegrades at the atomic level into nitrates, soil constituents, and water.
The unique ability of the micelle to encapsulate means more efficient carrying of nutrients throughout the plant.
All of our packaging is reusable and recyclable.