Lumatek LED Grow Light - ZEUS 1000W PRO 2.9 | 200-240V | IP65
Osram & Lumiled Diodes | **NEW** Foldable Version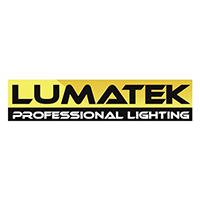 REG. PRICE: $3,500.00
$3,299.95
Products You May Need

If cart total is less than $499*
Freight applies
If cart total is $499* &amp above
Free
*excluding bulky items

Calculate shipping
SECURE PAYMENTS WITH





Lumatek is delighted to introduce you to the Zeus 1000W Pro. Stepping up the game on high quality LED horticultural lighting, meet the brand new Zeus 1000W Pro, innovating with a unique frame that gives you a unique coverage on the LED horticultural industry due to its pioneering rectangular shape. Providing the largest rectangular coverage area from the single biggest linear bar array fixture on the market, the Zeus 1000W Pro is designed to create the best distribution light for large scale growth. Once again, innovation is brighter than ever.
The higher specification Lumatek Zeus 1000W Pro LED is a linear multi-light bar fixture with a folding frame producing extremely high levels of PPF of 2925 µmol/s and very high efficacy of up to 2.9 µmol/J.
With the advances in technology and fixture performance, high quality LED horticultural lighting is now a credible option offering a significant return on investment to cultivators. Lumatek full spectrum horticultural LED solutions balance light quality (spectra) with light quantity (intensity and duration) ensuring an even light distribution and uniform spread.
The fixture efficacy will vary depending on the Input Voltage used.
The Zeus 1000W Pro produces ultra-high levels of PPFD evenly spread over a 2mx1.5m grow area and a full-spectrum grow light-producing consistently high quality & high yield indoor crops. This fixture has a larger rectangular foldable frame with an ingenious array that creates a uniform spread of light at a short distance to the crop enabling a single source to grow lighting for multi-layer cultivation systems, single benches in low rooms and grow tents.
The new line of Zeus is built using high-quality Lumatek drivers and the latest generation top bin LEDs from Lumileds and Osram, generating a full-spectrum light source ideal for veg and flowering cycles. Another new feature of this line is the Clear Glue protection cover technology on the LED bars; resulting in higher light transmittance of 99% without light loss, extended lifetime of diodes, extra corrosion resistance and high waterproof of IP65. For basic maintenance, simply clean the bars with wet cotton.
Lumatek is a pioneer in the innovative, modular, magnetic LED light bar design.
For different cultivars, propagation and vegetative growth periods the Zeus may be dimmed without losing efficiency. The high efficiency and low powered LED configuration with 10 interchangeable magnetic clicks LED bars reduces the temperature of the LEDs increasing the output and improving light maintenance.
External Control
The Zeus fixture can also be externally controlled with a Lumatek digital lighting controller (Digital Panel Plus 2.0) featuring light timing, automated dimming (1% increments), temperature safety control, Sunrise & Sunset Mode for up to 100 fixtures per controller.

Universal Control Systems Compatibility
Lumatek Zeus LED Fixtures can be fully controlled with either the Lumatek Digital Panel Plus 2.0 or with any other Control System that utilizes 0-10V output signal. Even if your Universal Controller has an RJ port interface, you can still run our LEDs by using a signal converter RJ to 0-10V control adaptor.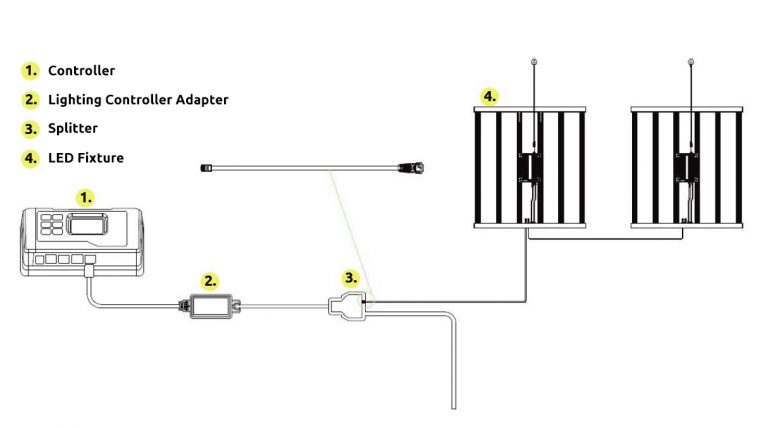 Documents

Download PDF brochure
Specifications
Product Code: LUMLED009
Efficacy: up to 2.9 µmol/J
PPF: 2925
Input Voltage: 220-240V, 50-60Hz
Power Consumption: 1025W (±5%)
Footprint: 2.0x1.5m
Waterproof: IP65
Lifetime: 60 000 hrs
Light Distribution: 120°
Light Source: Higher Spec Osram and Lumileds Diodes
Thermal Management: Passive Cooling
Dimmable: OFF-25%-50%-75%-100% with 0-10V Light Dimmer (Included)
External Control: With Lumatek Digital Panel Plus 2.0 or Universal Controller 0-10V
Weight: 17.5 Kg
Dimensions: 1700 x 1099.6 x 48.2mm
Spectrum: Full Spectrum F
BTU (With Driver Attached): 3668 BTUs/h (Max)
BTU (With Driver Remote): 3411 BTUs/h (Max)
In The Box
[10] x Lumatek 100W Pro 2.9 Full-Spectrum Magnet Light Bars
[1] x Foldable Frame Structure with 2 x 500W Pro Incorporated Drivers + Connecting cables
[1] x 0-10V Light Dimmer + Velcro
[2] x Metal Cable Hangers
[1] x Manual
Very high efficacy up to 2.9 µmol/s/J
Very high PPF output for high intensity 2925 µmol/s
Unique and innovative large foldable frame designed for wider rectangular coverage
Outstanding light spread and distribution in 2.0x1.5m grow area
High-quality Lumatek LED drivers
New Clear Glue protection cover technology on LED bars
Top bin LEDs
Balanced full spectrum
External control with Lumatek Control Panel Plus 2.0
Replaceable 100W Pro 2.9 magnet light bars
Fully Dimmable
User-friendly Plug & Play Assembling
5-Year Replacement Warranty
If the product is faulty within the warranty period, the product will be replaced with a new one.
Please send the product to the following address on the contact us page.
You May Also Like