10" Inch 250MM CAN Fan Max Pro 977CFM + Carbon Filter 1400CFM + 5M Duct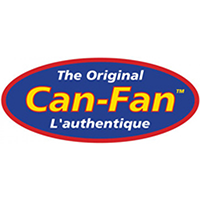 Can-Fan
Sale Ends in 30 June 2022

If cart total is less than $499*
Freight applies
If cart total is $499* &amp above
Free
*excluding bulky items

Calculate shipping
SECURE PAYMENTS WITH





Max Fan Pro - 250MM / 10" Inch | (Made in Germany)
Introducing the next generation of the highly successful Max-Fan series.
The two speed easy operation button makes the pro series the best value fans in our market.
The new tough polymer casing adds a new degree to the product durability.
The all new 3D rotor stator motor is even more efficient, higher air flow, and yet quieter
The contrasting yellow and black colours make a statement of quality and reliability comparable to high end machinery.
Specifications
Max. Flow Rate:

High: 1660 m³/h (977CFM)
Low: 1470 m³/h (865CFM)

RPM: 3300
Watts: 170
Amps: 0.8
Duct Size: 250mm
Blade Design: Diagonal / Mix Flow
Housing: Plastic
Weight: 5.5 kg
Air Activated Carbon Filter - 250MM X 1000MM (10'' inch) | 1400CFM
This carbon filter easily adapts to all squirrel cage and centrifugal blowers (some blowers may require an adapter). It makes a perfect companion to almost every exhaust situation. Great for small spaces where the filter must be in the air, attached directly to the exhaust fan, (due to its light weight). Packed with highly porous charcoal, the carbon filter eliminates all odors as the air is forced by the millions of open fissures in the packed charcoal.
Aluminum tops and bases for reduced weight. Half the weight of other filters.
50mm activated, certified virgin carbon bed.
Machine packed carbon means more carbon and less movement.
Cone shaped internal base for optimum air flow.
Sealed, bagged, boxed and labeled directly after being manufactured for optimum life span, handling and presentation.
53% open air custom mesh.
Large selection of sizes available to fit any application.
Specifications
Flange Size: 10" Inch
Total Height: 100CM
Air Flow: 1400CFM
Carbon Thickness: 50MM
Carbon Life Expectancy: 12 months
Black PVC Coated Dual Layer Air Duct - 5 Meters | 254MM (10" Inch) | Ventilation
Noise Reducer Clamp - 254MM (10" Inch)
These clamps are used with fans, silencers, reflectors, carbon filters and ductings. The soft rubber lining makes for a tight and vibration free fit.
Quick Release Clamp - 254MM (10" Inch)
Quick release stainless steel hose clamps. Just release the tension on the screw and flip up to instantly release the clamp. Allows for easy removal of the clamp for quicker flex duct removal when cleaning the glass in your air cooled fixture or accessing your lamp.
In The Box
[1] x CAN Fan Max Pro - 250MM (10" Inch) | 977CFM
[1] x Carbon Filter - 250MM X ø1000MM (10" x 50" Inch) | 750CFM
[1] x Black PVC Coated Dual Layer Air Duct - 5 Meters | 254MM (10" Inch) | Ventilation
[1] x Noise Reducer Clamp - 254MM (10" Inch)
[1] x Quick Release Clamp - 254MM (10" Inch)
We Also Recommend