1 x Hyperfan v2 Climate Controller + 2 x Hyperfan v2 150MM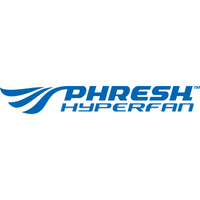 Phresh Hyperfan
OUT OF STOCK
FREE SHIPPING

If cart total is less than $499*
Freight applies
If cart total is $499* &amp above
Free
*excluding bulky items

Calculate shipping
SECURE PAYMENTS WITH





Are you having issues with heat?
Problems with humidity control?
Want the perfect air flow?
We've got the perfect package for you.
[1] x Hyper Fan V2 Climate Controller
[2] x Hyper Fan V2 150MM (6" Inch)
[1] x Hyperfan v2 Climate Controller
The new Phresh Hyperfan Climate Control v2 is easy to use with complete control of your environment. You can set your desired temperature as well as minimum fan speed. It can automatically control your both inlet and outlet Phresh Hyperfan v2;
Extremely simple to use. Just set the two dials and forget!
The lowest energy use of any fan/filter/controller system
Thermostatically changes the fans RPM/speed as needed
Constantly maintains the optimal day time temperature
Fan speed falls back to custom set RPM on cold nights
Operates 2 Hyper Fans at once (Inlet & outlet fans)
All cords, plugs and adaptor cables supplied.
Plug & Play
This controller is designed for Hyperfan v2 or HSilenced Hyperfans v2 only.
[2] x Hyperfan v2 150MM 6" Inch
Hyperfan is the latest technology available in mixed flow fans. Hyperfan utilize aircraft "taper blade technology" to fully optimize the aerodynamic movement of air over the fan blade.
New 9 pole digital EC "Brush-Less" motors
High fan efficiency @7.85CFM per watt
Higher linear airflow output than other fans
Higher static pressure output than outer fans
Detachable, fully variable speed controller included
Sturdy, steel housing and Abec 7 ball bearings
0-10V controller compatible via RJ9 or RJ11 cable
The importance of pressure (pa):
Static pressure is one of the most important factors in ventilation design. Simply put, static pressure refers to the resistance to airflow in a ventilation system's components and ductwork. The push of the air must be greater than the resistance to the flow. The higher the fans static pressure rating (pa) the greater it's ability to remove either hot or stale air from the environment.
150MM Hyper fan has it covered with 545pa on tap, one of the highest static pressures of any fan type. This coupling of taper blade technology optimised laminar stator design and "next gen" 9 pole digital EC motors results in a fan that delivers unrivalled high pressure, more linear airflow, quieter operations and the highest energy efficiency.
Specifications:
Size: 150MM (6" Inch)
Max Air Flow: 560 M^3/h - 330CFM - 156 LPS
RPM: 5000
Amps: 0.3A
Weight: 1.9KG
Noise: 66 dBA
Fan Pressure: 545Pa/iwg2.2"
Diameter: 150MM (6" Inch)
Width: 204MM (including mounting bracket)
Length: 140MM
Housing: Stainless Steel
Blade Design: Mixed flow - laminar blade
Climate Rating: T
IPX Rating: IPX2
In The Box
[1] x Hyperfan v2 Climate Controller
[2] x Phresh Hyperfan EC Fan v2 w/ Controller - 150MM (6")