Terra
CANNA TERRA is a line of nutrients and substrates which are specially developed for growing plants in peat-based potting mixes. CANNA TERRA can be used for cultivating in both pots & open potting mixes, indoor & outdoor.
CANNA TERRA nutrients have been developed to give excellent results with every type of potting mix. To make the most of the TERRA nutrients, CANNA has developed a high-quality potting mix: CANNA Terra Professional.
Advantages of CANNA TERRA
CANNA TERRA is specially developed for growing plants in peat-based potting mixes. Advantages of CANNA TERRA:
High yields
Easy to use, ideal for the inexperienced grower
TERRA nutrients are absorbed quickly
Better growth and flowering
---
2 Related Content Found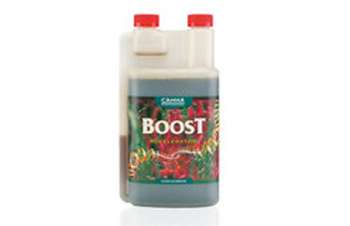 Let's face it, this is the mantra of too many growers. There are so many self identified 'boosters' out there it would take a super computer to count them. The problem is, only a few are true metabolism boosters, which is what a booster should be. Most are either additional nutrients, organic compounds , or simply an extract of someone's old socks! One company we know actually markets three different products that contain exactly the same ingredients, only they changed the names to protect the inn ...
---
Mixing hydroponic nutrients aren't rocket science but it can be confusing if you're a novice to plant fertilizers. In this short tutorial, we show you how to mix Canna Aqua Flores - a popular hydroponic nutrient used during the flowering and fruiting stage. ...
---