Teco Hydroponic Water Chiller Only - HY1000 | 1/4HP | 500 - 800LPH
Products You May Need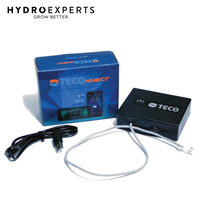 If cart total is less than $499*
Freight applies
If cart total is $499* &amp above
Freight applies
*This item is bullky so freight applies.

Calculate shipping
SECURE PAYMENTS WITH

BUY NOW, PAY LATER
Pay in 4, interest-free. Afterpay it.

ZIP NOW, PAY LATER
Repay on a convenient weekly, fortnightly or monthly schedule.

ENJOY NOW, PAY LATER





The TECO HY1000 (Chiller) is an essential part of any serious hydroponic system! The HY1000 is built for simplicity! Just set and forget for precise water temperature. TECO is Italian premium water control, made tough! Reliable quality for peace of mind. TECO Chillers are world-renowned for powerful design, durability and longevity.
TECO HYDROPONIC CHILLER LINE
Ideal for Hydroponics (NFT - Nutrient Film Technique, Ebb&Flow, DWC-Deep Water Culture, RDWC-Recirculating Deep Water Culture), Aquaponics and Aeroponics;
Combats where it matters, ensuring always the perfect water temperature of your hydroponics system;
Improves oxygen levels in the water, providing maximum root efficiency;
Repels pathogens and disease in plants roots;
Replaces the use of the air conditioning system, contributing to significant energy savings
Specifications
Supply: 230 - 240v 50Hz
Cooling power consumption: 310w
Ecological gas: R134a
Min and Max Flow rate: 500L/h - 800L/h (Aquarium pump not included)
Tank size: Up to 1000L (water temperature 20°C - room temp 30°C)
Dimensions: 310 x 310 x 482 (h) mm
Weight: 19.7kg / 43.4lb
COP (Coefficient of Performance): 1.7
Chilling capability for ideal temperature management, 24/7
Water inlet / outlet: 16MM
In The Box
[1] x Teco Hydroponic Water Chiller Only - HY1000 | 1/4HP | 500 - 800LPH