X-Trays Flood & Drain Tray Table - 68CM x 68CM x 16.25CM | 2 x 2 ft | White | Pick Up Only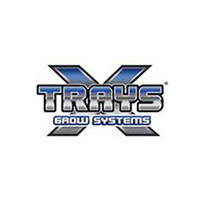 Delivery Not available
This product is bulky item.
SECURE PAYMENTS WITH





X-Trays flood tables are of the highest quality and a level of durability unmatched in the industry. The Classic series features true, full-size dimensions and volume to provide maximum growing area.
Made in Canada at their cutting edge thermoforming facility, X-Trays are manufactured with high impact ABS instead of the more common HIPS (Styrene) and can easily withstand temperature fluctuations and the hazards of daily agricultural use. The multi-level grooved irrigation channels promote fast and thorough drainage, and the rounded corners make cleaning a breeze. Our versatile trays include multi drain positions and water level markers on the inside walls.
Documents

Download PDF brochure
Specifications
Inside Dimensions: 61CM x 61CM x 15CM
Outside Dimensions: 68CM x 68CM x 17CM
In The Box
[1] x X-Trays Flood & Drain Tray Table - 68CM x 68CM x 16.25CM | 2 x 2 ft | Black | Pick Up Only
X-Trays are available in black or white and a variety of sizes to suit your growing requirements.
Made in Canada
100% BPA free
Available in black or white ABS plastic
Superior grid pattern design and multi-level drainage channels to promote fast and thorough drainage
Multi drain positions for versatility in set-ups
Rounded corners for easy cleaning
Gradation inside to accurately assess optimal water level
Thickness 0.14"