Nutriculture Wilma Drip Irrigation Kit - Large | 4 x 18L Pot | w/ 50L Tank
Ideal for use in 1.2m x 1.2m Grow Tent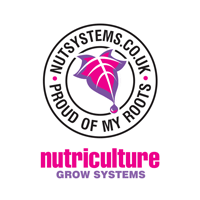 Wilma Systems are comparable to having a personal assistant for your gardening. They combine the simplicity of gardening in pots with the effort-saving benefits of having a timer-based automatic feeding system.
You can use any growing medium with the Wilma System, whether you're a fan of soil, clay pebbles, rockwool, coco, or any other medium for that matter. We recommend using clay pebbles as this ensures plenty of aeration at the root zone and also makes the systems easier to set-up and manage.
Wilma Systems are based on re-circulating hydroponics and utilise a simple dripper system to allow timer-based scheduled feeding. A timer is not included in the kit but we have inexpensive timers (see FAQs below) available which will let you effortlessly set your own feeding schedules.
Wilma Systems are great for automating the process of hand watering your plants daily and they're also perfect for making the transition from soil to hydroponic gardening. It is worth noting one of the key benefits of switching from hand watering to automatic watering is the growth advantages.
Feeding plants little and often has been shown to be much more effective at growing large, high-yielding plants when compared to hand watering once a day. The timer-based dripper system also dramatically reduces the risk of overwatering/overfeeding that is associated with hand watering plants.
These large Wilma systems have a reservoir volume of 50 litres and the tray measures 75cm x 75cm x 20cm. There are three systems available, one with 6 litre pots, one with 11 litre pots, and one with 18 litre pots. The tray is a standard size so you can interchange between these pot sizes effortlessly without having to purchase another system.
There are also other sizes of Wilma System available, from small to XXL to suit a whole host of growing environments, so check out the other sizes if this large system does not match your needs.
This kit does not include any clay pebbles. You will need approximately 72L of clay pebbles to fill up the 4 pots.
Specifications
| | | | |
| --- | --- | --- | --- |
| System | Dimension | Pot Options | Tank Volume |
| Wilma Large 4 | 75 x 75CM | 4 x 18L Pots | 50L |
| Wilma XL 4 | 90 x 90CM | 4 x 18L Pots | 70L |
| Wilma XXL 5 | 115 x 115CM | 5 x 25L Pots | 150L |
| Wilma Wide XL 8 | 190 x 90CM | 8 x 18L Pots | 180L |
| Wilma XXL 8 | 115 x 115CM | 8 x 18L Pots | 150L |
In The Box
[1] x 75CM x 75CM Tank
[4] x 18L Pots
[1] x Water Pump
Ideal for use in 1.2m x 1.2m grow tents / environments
Flood and arrow drippers to suit all growing needs
Versatile and can be used with virtually all growing media
Combines simplicity of pots with benefits of automated feeding
Interchangeable pot sizes for effortless replanting
Wilma Systems are a great product that really bridge the gap between hand-watering in soil and the automated feeding associated with hydroponics. They are perfect for those looking to move from soil to hydro and the timer-based drip system ensures you can feed your plants regularly even when you're absent. They are definitely worth a try with clay pebbles and the results tend to be better than hand-watering in soil.
Q. Do I need different trays for the different pot sizes?
A: It depends on your growing needs. There are two trays available with the large Wilma Systems; an eight pot tray that is designed for use with the 6 litre pots and a four pot tray that can be used with both the 11 litre and 18 litre pots.
Q. Is the timer included with this Wilma System?
A: One of the only essential components not included in the Wilma kits is the timer to schedule feeding and watering. However, a simple timer, such as the recommended Grasslin Segmental Timer, is inexpensive and comes with the ability to be set at 15 minute intervals over a 24hr period – a time scale ideal for use in the Wilma Systems.
Q. What's the difference between flood and arrow drippers?
A: The Wilma Systems are supplied with two different drippers to accommodate for the versatility of growing media that can be used. Flood drippers are great when used with clay pebbles whereas arrow drippers are ideal for more absorbent mediums like coco, soil, and rockwool.
Q. Why are clay pebbles most suitable?
A: Although the Wilma System can be used with a variety of growing media the best results and least hassle tend to be from using clay pebbles. As an active hydroponic system using clay pebbles with Wilma pots is a great match. You'll get the benefits of increased oxygenation at the root zone from using pebbles and you also won't have to modify the system in any way (which is often the case when using an absorbent medium like soil or coco).
Q. Do the Wilma Systems require regular maintenance?
A: To ensure you keep your plants healthy it's always wise no matter what set-up you use to regularly clean your growing environment and system. One common issue with dripper systems like the Wilma Systems is the tendency to clog, but this can easily be rectified with a good cleaning product.