General Hydroponics to Terra Aquatica - why a new brand?
By Terra Aquatica 26 November 2021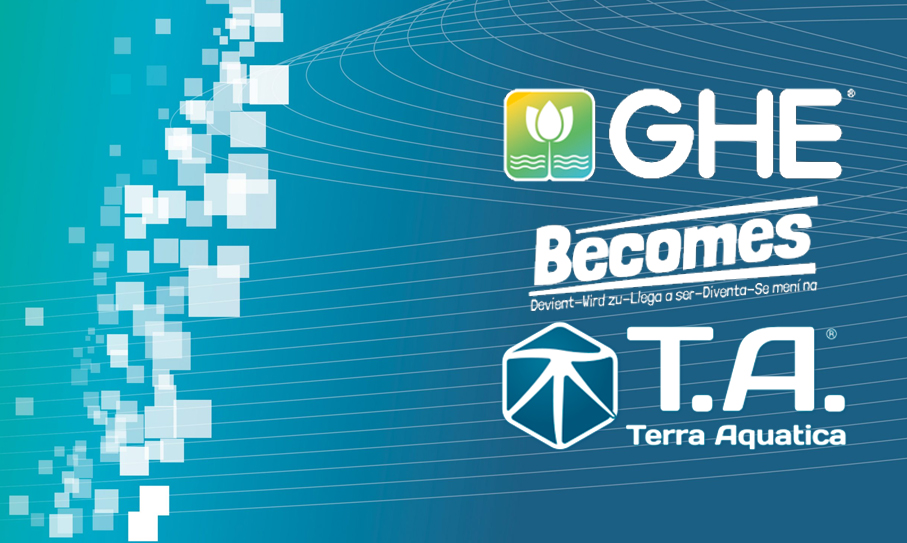 GHE® is the European offshoot of General Hydroponics, a veritable institution for all farmers in the United States. However, in 2015, this Californian gem was bought by the American giant of lawn and garden products, Scotts Miracle-Gro Co. Far removed from these purely financial considerations and in keeping with its work ethic, GHE has decided to seek its independence and focus on the basics: the products, the plants, and our customers.
A word from William Texier, co-founder of GHE
Is this the end of GHE?
This is the question people were asking themselves on that day of April, 2015, when the staff at the GHE offices heard the devastating news.
General Hydroponics – our parent company from California – had just been gobbled up by Scott's Miracle Gro.
Those who know exclaim: "What a waste!", "What a shame!" customers can be heard saying, and the employees are shell-shocked: "No way !"
It's thanks to 20 years of hard work and activism of William Texier and Noucetta Kehdi, and 20 years of support from Lawrence Brooke, the founder of G.H. and a pioneer in bringing hydroponics to the masses, and it's thanks to the 28 passionate employees (42 in total since the beginning of the adventure) and 4 freelance partners that we were able to provide Europe's supply of Flora Series® and Aeroflo Systems®, and create best-selling products such as WaterFarm® and AquaFarm®, Ripen®, the Dutch-Pot System® and the only certified organic fertiliser which can be used in a hydroponic system (originally BioSevia® for bioponics).
The answer is no! GHE isn't going anywhere, not like that, not after having come so far.
So, GHE will be re-born under the name Terra Aquatica®: a totally independent French company based near the Spanish border.
Why Terra Aquatica®?
Because earth and water are what we do best. Because we know what your plants like. We know exactly what they absorb and what they need.
We also know that Flora Series® was developed by Dr Cal Herrmann for NASA in 1976, to carry out tests in orbital stations, and that Lawrence Brooke was able to surround himself with the brightest graduates from the prestigious University of California, Davis, who didn't want their talent to go to Monsanto.
And we know all this because it has been working for over 40 years.
But will it be the same?
All our areas of expertise remain the same. Although Europe and the US are worlds apart, G.H.Europe was able to pave its own way by developing a range which is 70% organic (including fertilisers and boosters), whereas the regulations which apply to organic products on either side of the Atlantic are completely different.
Rest assured! We are keeping the original formula of our Flora-Series® as well as those of all the other products we currently sell because we own the rights to them. Only the name and labelling will be changing.
So?
GHE is launching a 100% organic range under the brand name Terra Aquatica®.
From complete "bioponic" fertilisers, sold under the names Thrive® and Sevia®, to root and bloom boosters selected by GHE, humic acids, seaweed extract, nettle manure, trichoderma… we have it all, even a brand new line of organic soil.
The first organic peat-free compost on the market, easily recognisable by its blue colour, which is also the colour of the new brand, T.A.® Organic Soil – Light Mix offers all the advantages of highend organic compost without the ecological footprint of the over-exploitation of peatlands.
You've got it. We want all the expertise in plant care and nutrition that we have acquired thanks to our hard work in hydroponics to serve all growers, including fans of coconut and lovers of the land.
What about hydroponics?
Both General Hydroponics California and Europe have earned their claim to fame as leading specialists in the US, Europe, Canada and Russia.
We will continue our work in the field by developing hydroponic micro-farms for the future market-gardening section, we will continue to collaborate on urban revegetation projects and to support all those who wish to grow all the plants they want while getting the best out of them.