Phresh Silenced EC Hyperfan v2 w/ Controller - 300MM (12") | 1827CFM
Updated v2 Model | Speed Variable | 2 Years Warranty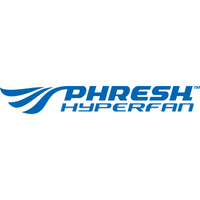 Phresh Hyperfan
Products You May Need

If cart total is less than $499*
Freight applies
If cart total is $499* &amp above
Free
*excluding bulky items

Calculate shipping
SECURE PAYMENTS WITH





Hyperfan is the latest technology available in mixed flow fans. Hyperfan utilize aircraft "taper blade technology" to fully optimize the aerodynamic movement of air over the fan blade. Silenced Hyperfans have a reduced dB of up to 70% over standard Hyperfans. Our unique spring-mounted housing further reduce vibration and help deliver some of the quietest fans in the industry (m3/h per Watt)
Specifications
Size: 300MM (12" Inch)
Max Air Flow: 3100 M^3/h - 1827CFM - 862LPS
RPM: 3200
Watts: 320W
Amps: 2.8A
Weight: 12.9KG
Noise: 59 dB A
Fan Pressure: 730Pa/iwg2.93"
Diameter: 302.1MM
Width: 388MM
Length: 1010MM
Housing: Steel & Aluminium
Blade Design: Mixed flow - laminar blade
Climate Rating: T
IPX Rating: IPX2
In The Box
[1] x Phresh Silenced EC Hyperfan v2 w/ Controller - 300MM (12")
New 9 pole digital EC "Brush-Less" motors
High fan efficiency
Higher linear airflow output than other fans
Higher static pressure output than outer fans
Detachable, fully variable speed controller included
Sturdy, steel housing and Abec 7 ball bearings
0-10V controller compatible via RJ9 or RJ11 cable
The importance of pressure (pa):
Static pressure is one of the most important factors in ventilation design. Simply put, static pressure refers to the resistance to airflow in a ventilation system's components and ductwork. The push of the air must be greater than the resistance to the flow. The higher the fans static pressure rating (pa) the greater it's ability to remove either hot or stale air from the environment.
2-Year Replacement Warranty
If the product is faulty within the warranty period, the product will be replaced with a new one.
Please send the product to the following address on the contact us page.