Hydro Experts Grow Your Own Lettuce Kit
IN STOCK
FREE SHIPPING OVER $499*
OFFER:
Save 15%!
Sale Ends in 30 June 2022
Products You May Need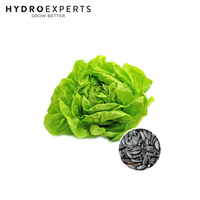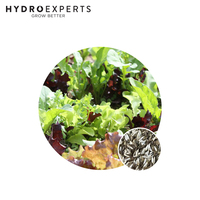 If cart total is less than $499*
Freight applies
If cart total is $499* &amp above
Free
*excluding bulky items

Calculate shipping
SECURE PAYMENTS WITH





1 x Mesclun Mix Lettuce - Seed Packet [Size: 1G]
A mixture of green & red lettuce varieties. Ideal for picking fresh leaves from a young to mature stage.
1 x Mondi Propagation Kit - [Option: Tray+ Mesh + Dome]
Mondi Propagation is a 3-piece propagation kit with a 545 x 280 x 64mm base tray, mesh seedling tray and vented dome 180mm high, allowing for taller cuttings. It provides perfect humidity control for your cuttings.
1 x Grodan SBS Rockwool Grow Cubes | 36MM | 77 Cubes | w/ Tray | Propagation Medium
This is a single block system (SBS) cube tray that is ideally designed to hold 77 blocks for seeding or cutting propagation.
The tray is designed to easily handle a large group of growing cubes to hold young plants until they grow sufficient roots before being transplanted to larger cubes or pots.
1 x Mojo Cow PS-1 Light System - 2 x 24W | 6400K | White | T5HO | Propagation Light
The 'PS' series is a very efficient T5 fluoro lighting system that enables you to create and customise your lighting solution.
Each fitting holds one 24 watt high output fluoro with its own highly efficient reflector. By clipping more fittings onto the specially designed spines, you can run more (or less) lamps as required.
The first lamp connects directly into a 240 volt power source. Then, to add a an extra lamp, it's just a matter of plugging the next lamp into the back of the existing lamp with a link cable. Up to 4 lamps can be run in each circuit. The lamps can be fitted side by side, or spaced to suit the needs of the environment.
The PS-1 Light Kit contains two lamps and fittings. They can either be run together, or separately.
1 x Propagation Seed Starter Heat Mat - 52CM x 25CM | Faster Clone & Germination
The heat mat warms the root area by up to 20°F (7 °C) above the ambient air temperature to improve germination and increase the success rate of seedlings and cuttings.
Direction of use:
Place heat mat on solid well drained surface
Plug heat mat into power outlet
Set plant trays, pots or containers on heat mat
For warmer root zone temperatures place heat mat on an insulated surface
Avoid positioning heat mat on a cold floor
The humidity dome helps retain moisture for plants to germinate and root faster
Product is designed to warm the root area by 7 °C above grow room temperature
In The Box
1 x Mesclun Mix Lettuce - Seed Packet [Size: 1G]
1 x Mondi Propagation Kit - [Option: Base Tray]
1 x Mondi Propagation Kit - [Option: Mesh Tray]
1 x Mondi Propagation Kit - [Option: Vented Dome]
1 x Grodan SBS Rockwool Grow Cubes | 36MM | 77 Cubes | w/ Tray | Propagation Medium
1 x Mojo Cow PS-1 Light System - 2 x 24W | 6400K | White | T5HO | Propagation Light
1 x Propagation Seed Starter Heat Mat - 52CM x 25CM | Faster Clone & Germination