Can-Lite 2500 Ventilation Kit | 12" Q-max EC Silenced Fan + Duct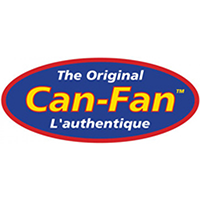 Can-Fan
OUT OF STOCK
FREE SHIPPING
SECURE PAYMENTS WITH

BUY NOW, PAY LATER
Pay in 4, interest-free. Afterpay it.

ZIP NOW, PAY LATER
Repay on a convenient weekly, fortnightly or monthly schedule.

ENJOY NOW, PAY LATER





Can-Fan Q-Max EC Silenced Fan - 315MM (12")
Q-Max EC Fans manufactured by Can-Fan are high quality inline mixed flow extractor fans suitable for indoor grow rooms. The latest generation Q-Max EC Fans incorporate a patented 3D rotor-stator system combined with a sound insulated metal casing. Q-Max EC Fans are very quiet in operation, powerful even with long lengths of ducting and aerodynamically efficient. All Q-Max EC Fans can be thermostatically controlled with the Can-Fan EC Controller, smoothly increases and decrease fan speed in 1% increments without any electrical humming or buzzing.
The silent operation of the Q-Max EC fan is achieved with the use of a high quality metal casing, acoustic foam liner proving maximum sound absorption, uniform turbulence free air flow and smooth EC speed control. Q-Max EC Fan are supplied with jack cables and splitters, up to 10 Q-Max EC motor fans can be connected and controlled at once using the Can Fan EC Controller.
Original Can-Lite 2500 Carbon Filter - [Flange Size: 315MM (12" Inch)]
The Can-Lite carbon filter is the latest addition to the Can-Filters Carbon filter range. Recently released after years of testing and research, the Can-Lite has been developed with ease of installation, durability and effectiveness in mind.
The Can-lite is manufactured using a similar process to Can-Filter 'Classic but instead using a highly perforated, light aluminum casing and a special grade of virgin CKV-4 carbon. This allows the filters to be lighter and handle larger air flow rates without any odor breakthrough.
Made in the Netherlands.
Silver Foil Aluminium Insulation Duct Tape - 50MM x 50M | 30mu
A heavy duty heat resistant aluminum tape for repairing ducting.
Has pressure sensitive backing for durability and easy application.
Black PVC Coated Dual Layer Air Duct - 5 Meters | 315MM (12" Inch) | Ventilation
5 Metre Length
High Quality Air Ducting
Dual Layer Construction
Small Ribbed Silver Inner
Black PVC Wrapped Outer
Completely Light Tight
No Pin Holes or Air Leaks
In The Box
[1] x Can-Fan Q-Max EC Silenced Fan - 315MM (12")
[1] x Original Can-Lite 2500 Carbon Filter - [Flange Size: 315MM (12" Inch)]
[1] x Silver Foil Aluminium Insulation Duct Tape - 50MM x 50M | 30mu
[1] x Black PVC Coated Dual Layer Air Duct - 5 Meters | 315MM (12" Inch) | Ventilation