Future Farmers: Will Hydroponic Hops Change the Beer Industry? how to grow hop hydroponically
By Behind the Bines by Ezra Johnson-Greenough 1 September 2017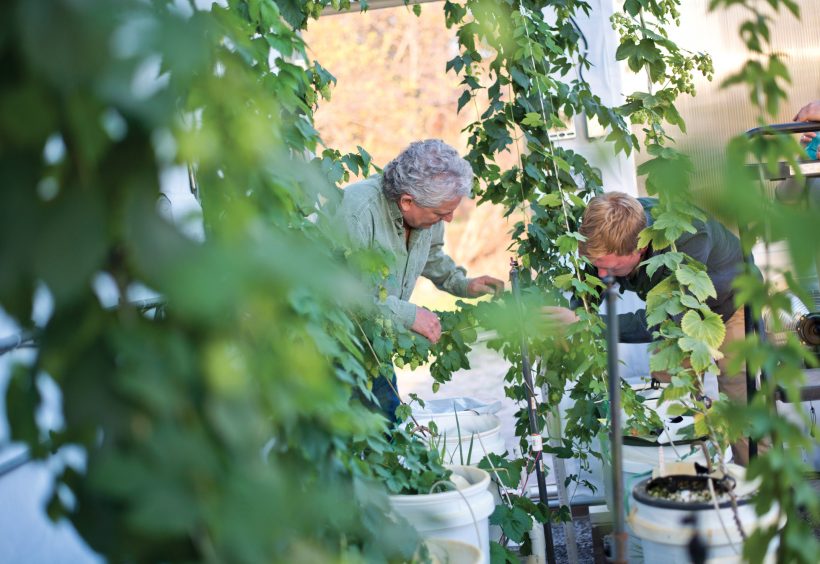 In the world of beer, one ingredient reigns supreme: hops. The modern craft brewing movement has been led by hop innovators in many ways, and yet it remains a fickle, seasonal, and limited space.
Hops are harvested once a year and grow best in the optimal climates of Germany and America's Pacific Northwest. In recent years, the hop growing industry has been challenged by fires, weather, pests, and demand from new breweries making more and more hop-focused beers. In fact, some are now sounding the alarm for an impending hop shortage. So what's a young start-up brewer to do? An entrepreneurial homebrewer with a degree in hydroponic greenhouse cultivation in Colorado and a group of four enterprising beer fans in Minnesota may have the answer, and it could revolutionize the entire industry.
Hydroponic growing techniques—essentially cultivating plants in a mineral-rich nutrient solution instead of soil—have existed since the early 17th century. These methods have already changed the way vegetables can be grown across the world, and hydroponics is said to be a key part of the space program's plan to grow crops in inhospitable environments. Illicit indoor marijuana grows operations have relied on hydroponics for years. But why hasn't anyone tried to grow hops this way?
When the founders of Round Table Hops of Forest Lake, Minn., first posed the question of growing hops hydroponically, they were met with skepticism. The space needed and the cost of indoor heating and lighting seemed like it could outweigh any benefits, making a decent crop impossible. After studying the pros and cons, Round Table Hops set about utilizing modern methods of sustainable growth that circumvent common hop growing techniques. Then they launched a Kickstarter crowdfunding campaign with the presumption of initial success.
The first thing they learned was that growing hops entirely indoors might reduce heating costs, but it sent lighting costs through the roof. Settling on greenhouses "reduce[d] the amount of artificial light we needed but increase[d] our heating and cooling costs considerably," explains co-founder Ben Vaughn. So they began looking into older techniques for stabilizing the temperature inside the greenhouse and came up with a Subterranean Heating and Cooling System (SHCS). By installing a network of tubes on an insulated level four feet below the greenhouse, they created a heat battery. A small fan circulates hot, humid air through the pipes and the cooler soil around it creates dew. Water vapor turns to liquid in the air, re-releasing heat into the soil. The heat energy is stored in the soil from the summer and during the winter the opposite happens. Powering the entire greenhouse with a 6-inch fan reduces heating and cooling costs by about 70 percent.
How successful the partners will remain to be seen based on the expensive upfront costs. One way Round Table Hops is conserving on lighting is the spacing between plants, allowing them to grow more plants per acre-foot. "Hop plants are spaced on a plant per acre layout in order to capture adequate sunlight," says Gayle Goschie, president of Goschie Farms in Oregon. By supplementing natural light with additional LED lighting, Round Table Hops can space hop plants much closer together. "We can fit 10 acres worth of plants into each acre," Vaughn says. Their innovation has made a fan of Goschie. "I love the 'out of the box' energy that continues to be put toward the craft brew industry. By the video, it's doable."
Tight quarters do produce another challenge though. Commercially grown hops are usually picked with large harvester machines. There's no room for such equipment in Forest Lake, so the hop bines are cut and picked by hand. They plan to use a greenhouse lift and a conveyor belt at a 3-acre facility in planning. This increases labor costs, which in turn raises a red flag for Indie Hops, an innovative hop processor and brokerage company in Oregon. "In order to achieve the multiple harvests per year, re-planting of rhizomes is likely necessary for any consistency in quality and yield," says Indie Hops co-founder and CEO Jim Soldberg.
According to many experts, hop plants also need a dormancy period to yield a good crop in successive years. Jim suspects that Round Table Hops would need to replant new rhizomes after each harvest, a "tremendous labor requirement when on a commercial scale, and the rhizome supply would most likely need to come from plants that had completed a 'normal' winter dormancy period." Soldberg also believes a higher plant density will decrease the yield per plant.
Round Table Hops' prototype greenhouse has been in operation for a year and has had two successful harvests (one in the winter and the other in the summer) of seven different varieties. While conventionally grown hop plants take two to three years to produce a good yield with satisfactory alpha acid levels, the hydroponic hops in Minnesota seemed to thrive from the beginning. Vaughn believes three harvests a year is a realistic goal for the early stages of the project as they continue experimenting. Samples of the hops have already gone to local breweries, and so far the feedback has been positive.
"They looked great and smelled good, nice and big," says Ty McBee, head brewer at Big Wood Brewery in White Bear Lake, Minn., which used some of Round Table Hops' first harvests for dry-hopping. "The dry hopped beer was a hit in the taproom, we sold out pretty quick."
The company is also planning to make two fresh hopped beers this spring with two other local breweries—Barley John's Brew Pub and HammerHeart Brewing Co. "They are both interested in Cascade, so rather than having several varieties but few plants, we are bringing in all Cascade for our winter grow," reports Vaughn.
On November 29 Round Table Hops successfully met its Kickstarter goal, raising $25,147 in a campaign that garnered the company national attention. That money will go toward a down payment on a new facility with 3 acres of growing room, on-site packaging, and equipment estimated to be able to process 160–200,000 pounds of hops each year.
Colin Clark at Hydro Hop Farms in Colorado and Vaughn at Round Table Hops in Minnesota might have high expectations, but many questions still loom. "Is it possible to grow hops indoors, even in the winter?" asks Soldberg. "Yes! Can this be done in a cost-effective manner? Odds are against it in my opinion, but we won't know for sure until somebody tries."
Will this be the beginning of a new revolution in hop growing? "I'm rooting for them," says McBee at Big Woods. "What if we really could have fresh hops to order?"