Pro Grow UFO LED - 100W | IP55 | Samsung & Osram Diodes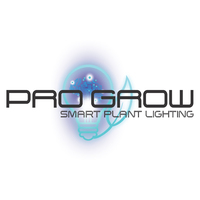 Pro Grow
IN STOCK
FREE SHIPPING OVER $499*
Sale Ends in 30 June 2022
Products You May Need

If cart total is less than $499*
Freight applies
If cart total is $499* &amp above
Free
*excluding bulky items

Calculate shipping
SECURE PAYMENTS WITH





Pro Grow LEDs are more energy-efficient than HID fixtures. Customers have reported a 25% increase in grams per Watt (total finished dry weight) compared to a traditional 600 W SE HPS lamp. The quality of the product is improved due to the high CRI (Colour Rendering Index) of 91.1 and terpene profiles are accentuated due to the increased full spectrum light intensity with less heat.
The new Pro Grow UFO LEDs blend top bin SMD diodes from both Samsung and Osram for an outstanding efficacy of over 2.1 μmols/s. Pro Grow UFO LEDs emit 4,000 Kelvin full spectrum light with an industry-leading CRI of 90. Coupled with ultra-reliable Optimum drivers, the lightweight and durable die-cast aluminium housings offer cool, fanless & totally silent operation. Extended reliability is assured with IP-55 water resistant, cleanable housings. Pro Grow UFO LEDs are available in both 100 W and 200 W configurations with outputs of PPF 210& PPF 420 respectively. Total weight for either unit is well under 2.9 kgs making installation and mounting a breeze.
Documents

Download PDF brochure
Specifications
Total PPF 210 µmol/s - 2.1 µmol/
Samsung & Osram Diodes
Full Spectrum Array - CRI 91.1
High Quality Optimum Driverz
260 mm Ø - 150 mm H
Total Amps: 0.42 A
Coverage: 50CM x 50CM
In The Box
[1] x Pro Grow UFO LED - 100W | IP55 | Samsung & Osram Diodes
3-Year Replacement Warranty
If the product is faulty within the warranty period, the product will be replaced with a new one.
Please send the product to the following address on the contact us page.
You May Also Like