Products You May Need

If cart total is less than $499*
Freight applies
If cart total is $499* &amp above
Freight applies
*This item is bullky so freight applies

Calculate shipping
Product Information
This item is discontinued by the manufacturer.




Hailea water chillers are perfect for keeping nutrient temps within optimal ranges at all times, preserving oxygen levels and protecting root systems from pythium and other root disease issues. They work like mini-refrigerators, and they're incredibly easy to set up and run. These kits make it even easier, by providing you with the other parts needed to get up and running.
Hailea HC chillers have strong metal chassis with a housing of contemporary design, ensuring the chiller does not look out of place in any surroundings and as with other cooling units, our chillers-the HC series use the environmental friendly refrigerant R134a.
Lower noise design, whilst the digital temperature controller ensures that the selected temperature is maintained.
The rate of flow is decided according to the max jet of the pump (immersible power filter) and the circulation equipment.
How Hailea Nutrient Chillers Work
To get the chiller up running, you need flexible pipe, water pumps that are perfectly matched to each chiller unit, and three hose clips to keep everything secured in place, eliminating leaks.
How to Use the Hailea Nutrient Chiller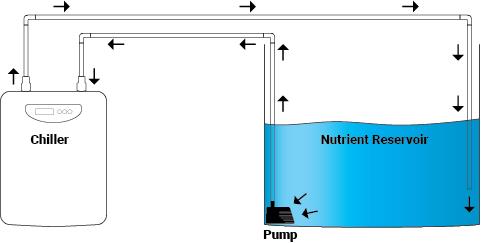 Setting up chiller kits is quick and easy. The diagram to the right gives you an overview of how they're constructed.
You'll need to connect the pump to the chiller's inlet using a length of pipe and connect another length of pipe to the chiller's outlet. Be sure to secure everything in place with the supplied hose clips.
The chiller should be cleaned after each crop to remove any mineral deposits and limescale. Just fill the chiller with clear pickling vinegar, leave for 24 hours, and then flush it with water. Ensure that you also set up an air circulator fan near the chiller to avoid any heat build-up.
Specifications
Model: HC-100A
Power: 1/20HP
Voltage: 220~240V
Frequency: 50Hz
Working Current: 0.6A
Water Refrigerated: 50~220L
Iced Medium: R134a
Flow Rate: 200~1000L/H
Weight: 9.2kg
Size: 338×218×325mm
In The Box
[1] x Hailea Water Chiller HC-100A | 1/20HP | Water Refrigerated 50-220L