10" Mountain Air EC Whisper Silenced Fan 1065CFM + Mountain Air Carbon Filter 250x500MM + 5M Duct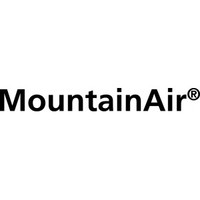 Mountain Air
OUT OF STOCK
FREE SHIPPING
SECURE PAYMENTS WITH

BUY NOW, PAY LATER
Pay in 4, interest-free. Afterpay it.

ZIP NOW, PAY LATER
Repay on a convenient weekly, fortnightly or monthly schedule.

ENJOY NOW, PAY LATER





Mountain Air EC Whisper Silencer Fan - 250MM (10" Inch) | 1065CFM | w/ Thermo Stat & Controller
Mountain Air EC Whisper Silencer High-Speed Fans represent the ideal solution for those looking to combine high performance with whisper-quiet operation. The dual impeller and turbine-style inlet are designed to optimise pressure throughout the fan housing, improving airflow when paired with long or complex ducting runs. Courtesy of the insulated housing, the EC Whisper High-Speed Fan delivers class-leading performance whilst remaining near-silent even at full power.A digital 3-mode Environmental Controller is included to provide the user with total control. One mode allows for manual control of the fan's speed, while two thermostat-controlled modes either turn off the fan or reduce its speed when the temperature of the room falls below set temperature.
The 3 modes that can be used are Fan Speed, Cool-Temp Speed, and Cool-Temp Shutdown, explained below:
Fan Speed: the fan will run continuously at the SET SPEED.
Cool - Temp Shutdown: If temperature probe measures above the SET TEMP, the fan will run at full speed. If temperature probe measures below the SET TEMP, the fan will shut down.
Cool - Temp Speed: If temperature probe measures above the SET TEMP, the fan will run at full speed. If temperature probe measures below the SET TEMP, the fan will run at SET SPEED.
Mountain Air Carbon Filter - 250MM x 500MM (10" Inch) | 535CFM
MountainAir carbon is derived from an allocthonous, subbituminous black coal deposited in the Devonian Period in a PreCambrian formation within the Collie Basin over 230 million years ago. It is the planet's oldest coal. It has extremely low ash content. Trace element discrimination demonstrates it to be physically and chemically unique.
This feedstock is steam activated in the presence of large concentrations of particular gases that affect the activation process in a certain way. The result is an irregularly shaped activated carbon granule predominated by mesopores in a physical distribution which is absolutely ideal for adsorption of volatile organic compounds as well as other associated odorous particles.
Mountain Air filters will remove most VOCs of less than 30 microns, including acetone & acetate compounds, alcohol compounds (butyl base, ethyl base, methyl base & propyl base), animal odors, benzene compounds, cooking odors (low humidity), diesel fumes, epoxy resin odors, glue odours, paint odors, all plant odors, pollens, some poisons, odor-bearing smoke particles, and most welding fumes. Mountain Air filters are less efficient at removing large smoke particles but are extremely efficient at preventing and/or minimizing smoke damage to fabrics etc.
You can use two main fan types with the Mountain Air ® Filter.
Mixed-Flow Fan
Centrifugal fan
A third common fan type is the radial fan. This type is not suitable for use with the Mountain Air® Filter as it is meant to be used in free-flowing or near free-flowing situations
Temperature: less than 32C (90F)Just like a fine wine, manufacturing the perfect carbon filter for a given application requires particular attention to every tiny detail. Just like flowering plants, MountainAir® filters work best if the air passing through is kept within these specifications:
Relative Humidity: less than 80%
Black PVC Coated Dual Layer Air Duct - 5 Meters | 254MM (10" Inch) | Ventilation
This air duct uses mylar and wire construction for durability and maneuverability. It's capable of handling temperatures up to 60 degrees Celsius and will not kink.
Noise Reducer Clamp - 254MM (10" Inch)
These clamps are used with fans, silencers, reflectors, carbon filters and ductings. The soft rubber lining makes for a tight and vibration free fit.
Quick Release Clamp - 254MM (10" Inch)
Quick release stainless steel hose clamps. Just release the tension on the screw and flip up to instantly release the clamp. Allows for easy removal of the clamp for quicker flex duct removal when cleaning the glass in your air cooled fixture or accessing your lamp.
In The Box
[1] x Mountain Air EC Whisper Silencer Fan - 250MM (10" Inch) | 1065CFM | w/ Thermo Stat & Controller
[1] x Mountain Air Carbon Filter - 250MM x 500MM (10" Inch) | 535CFM
[1] x Black PVC Coated Dual Layer Air Duct - 5 Meters | 254MM (10" Inch) | Ventilation
[1] x Noise Reducer Clamp - 254MM (10" Inch)
[1] x Quick Release Clamp - 254MM (10" Inch)