Phresh Hyper Mixed Flow Inline EC Fan - 250MM (10" Inch) | 1065CFM | Speed Adjustable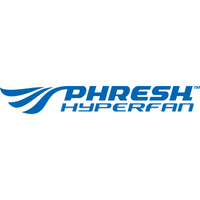 REG. PRICE: $499.95
$449.95
This item has been DISCONTINUED either by our supplier or manufacturer.
Warranty : 2 Year

If cart total is less than $499*
Freight applies
If cart total is $499* &amp above
Free
*excluding bulky items

Calculate shipping
SECURE PAYMENTS WITH





This model of hyper fan has been discontinued. You can purchase new version HyperFan v2 from the following link.
Phresh EC Hyperfan v2 w/ Controller - 150MM (6") | 330CFM
Phresh EC Hyperfan v2 w/ Controller - 200MM (8") | 725CFM
Phresh EC Hyperfan v2 w/ Controller - 250MM (10") | 1084CFM
The Phresh Hyper fan uses next generation Multi-Phase EC Motors that energises the motor 12 times per revolution. Power delivery to the fan blade is smooth, ultra efficient and vibration free. This fan uses up to half the power and produces half the heat of current leading industry mixed flow fans. This results in greatly reduced energy costs, less wear, improved reliability and increased lifespan. The Phresh Hyper fan produces up to 2.4 inches of Water Gauge pressure. The highest pressure of any fan in its class, delivering more air movement through ducting, carbon filters or air cooled hoods. Detachable speed controller is included. They re smooth, quiet and efficient, offering benefits that professional users want with commercial-grade quality across the board. Hyper Fans are designed and built with many features that increase longevity, reduce operating costs, and drastically lower heat output.
Best in its class, the Phresh Hyper fan delivers the highest CFM s per watt of any fan in the industry. Hyper fan s develop higher static pressures and higher airflows than any other mixed flow fans in the market. They are the answer to a unified environmental solution for your garden. Every fan includes a detachable, fully-adjustable speed control. In addition to the highest airflow and highest attic pressure, Hyper fan s have the lowest power consumption, ensuring the best performance and the lowest cost of ownership. The State-of-the-art Digital DC motor is reliable and long lasting. Laminar flow blades and stators for best efficiency of any line of fans
Specifications
Model: 10" Hyper Fan
Size: 10" Inch / 250MM
Max Air Flow: 1065CFM
RPM: 3200
Max Watts: 170W
Peak Amps: 1.1A
Rated Voltage: 220-240V
Weight: 3KG
Pressure / wg: 2.4 inches / 60MM
Diameter: 250MM
Length: 200MM
Max Room Size/Watts: 5000W
In The Box
[1] x Phresh Hyper Mixed Flow Inline Fan - 250MM (10" Inch) | 1065CFM | Speed Adjustable
EC digital brushless motors are quieter, operate at lower temperature, are energy efficient & reliable.
High Pressure Laminar Air Flow/Taper Blade & Stator Technology
Multi-phase Technology
Soft Start Technology
Heavy Duty Sealed Bearings & Shorter Motor Shaft for smooth operation.
Volume air flow of 1065CFM or 503L/s
Questions for Hyper Fan
Q: How long is the cable for the speed controller
A: 4.7M
Q: Is the motor brushless?
A: Yes the motor is brushless. The Next Generation "Multi-Phase" EC Motors use up to half the power and produce half the heat of traditional EC and/or DC motors.
2-Year Replacement Warranty
If the product is faulty within the warranty period, the product will be replaced with a new one.
Please send the product to the following address on the contact us page.