Fluorescent (CFL) Kit
Compact Fluorescent lights (CFLs) are smaller versions of fluorescent lights that were originally designed as pre-heat lamps, but are now available in rapid-start form. CFLs have largely replaced incandescent light bulbs in households because they last longer and are much more electrically efficient.
In some cases, CFLs are also used as grow lights. Like standard fluorescent lights, they are useful for propagation and situations where relatively low light levels are needed.
While standard CFLs in small sizes can be used to grow plants, there are also now CFL lamps made specifically for growing plants. Often these larger compact fluorescent bulbs are sold with specially designed reflectors that direct light to plants, much like HID lights. Common CFL grow lamp sizes include 125W, 200W, 250W and 300W.
Unlike HID lights, CFLs fit in a standard mogul light socket and don't need a separate ballast.
Compact fluorescent bulbs are available in warm/red (2700 K), full spectrum or daylight (5000 K) and cool/blue (6500 K) versions. Warm red spectrum is recommended for flowering, and cool blue spectrum is recommended for vegetative growth.
Usable life span for compact fluorescent grow lights is about 10,000 hours. A CFL produces 44-80 lumens/watt, depending on the wattage of the bulb.
---
2 Related Content Found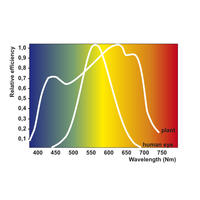 IT'S ALL ABOUT PHOTONS Many lamp manufacturers still specify the output of their lamps (illuminance) in lumens, though this just specifies how we humans percieve the intensity of that light. Our eyes are most sensitive to green ligh of 555 nm, but plants are more sensitive to a much broader spectrum. So what is the right way to specify horticultural lamps and how can you calculate with that? What's in it for you? Enter the photons. PAR spectrum Plants primarily use the light ranging fr ...
---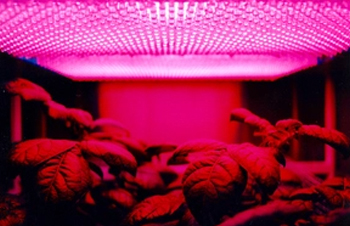 Takeaway : LED grow lights bring definite benefits, but choosing the right product usually proves to be quite challenging. Here ar ...
---