Nutrient Meter (pH, PPM & others)
---
This category is empty! Please try another category or use our search function to find what you are looking for. If you require further assistance please contact us.
1 Related Content Found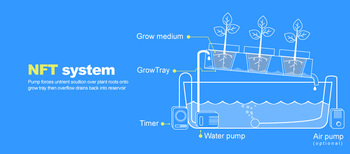 NFT System Today, we will go over the Nutrient Film Technique (NFT) system. The NFT is a popular hydroponics system for home growers and is usually used to grow small, fast-growing plants such as lettuce. Commercial growers also often use NFT systems to grow various kinds of herbs and baby greens. The advantage of an ...
---