Hydroponics Flood & Drain Tray
Hydroponics Flood and drain trays are designed for use with the hydroponic flood and drain system. The planting tray is regularly flooded with hydroponic nutrient-enriched water. The growing media soaks up this solution, then the excess solution drains out and the air is drawn down around the plant roots. Flooding and draining are done with the aid of a pump and a timer, which is easy to do at home.
Visit in-store or order online at hydroexperts.com.au and get free delivery over $499. Only at HYDRO EXPERTS!
---
1 Related Content Found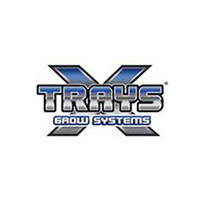 X-Trays flood tables are manufactured with durable, high impact ABS plastic. Made in Canada at their cutting edge thermoforming facility, X-Trays are of the highest quality and a level of durability unmatched in the industry. By choosing to use high impact ABS instead of the more common, lower grade, HIPS (Styrene), X-Trays can easily withstand temperature fluctuations and the hazards of daily agricultural use. These versatile trays and reservoirs feature multiple drain positions, water level markers on the inside walls, and rounded corners to make cleaning easier. ...
---