Black Dog LED - Phytomax-2 LED Grow Lights - 800 | True Watt: 840W
Please allow minimum 2-4 weeks for delivery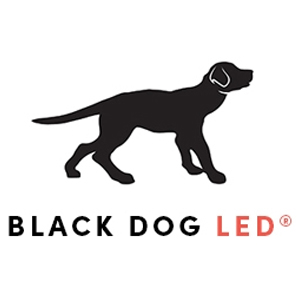 If cart total is less than $499*
Freight applies
If cart total is $499* &amp above
Free
*excluding bulky items

Calculate shipping




Due to the recent change of the distribution structure from Blackdog. Please allow minimum 2-4 weeks for delivery. Please make sure the delivery time is acceptable before purchase.
More efficient and powerful than any single-ended (SE) HPS

PhytoMAX-2 800 LED grow lights better penetrate dense canopies to produce a superior yield with higher quality flowers and more trichomes
Increases yield by 30% or more over a 1000W HPS
Saves on electrical, cooling, reflector and bulb replacement costs

336 High-Output 5-watt LEDs

Every top-bin LED is selected from the industry leader for the particular wavelength, including Cree, Osram, etc.
With glass lenses for durability and cleanability
High light intensity and energetic spectrum, crucial for canopy penetration to nourish lower leaves and flowers
Even, edge-to-edge coverage eliminates leaf burn and hot spots

840 True Watts - 1680 LED Watts
Huge Coverage Footprint

Up to 1.85 X 1.85 meters (3.4 square meters!) of flowering footprint coverage!
Proven by independent spectroradiometer testing
Specifications
PhytoMAX-2 800 LED Grow Lights Specifications
| | |
| --- | --- |
| Max. Flowering Footprint | 1.85 x 1.85 meters |
| Max. Vegetative Footprint | 2.3 x 2.3 meters |
| Shipping Size | 71 x 71 x 30 cm |
| Product Dimensions | 53 x 53 x 15 cm |
| Shipping Weight (lb.) | 53.0000 |
| Weight | 22.7kg (50lb.) |
| True Wattage | 840w |
| LED Wattage | 1680w |
| Certifications | ETL, CE, FCC, RoHS |
| | |
| --- | --- |
| Mean Time Between Failure | > 50,000 hours |
| Number of LEDs | 336 |
| Amp Draw | 3.65A (@ 230V) |
| Cord Length | 2.4 meters |
| Voltage | AC 100V~250V |
| Work Frequency | 50~60 Hz |
| Power Factor | > 0.98 |
| Operation Temperature Range | -20~40 °C |
| BTU | 2864 |
| Fans Expected Life | 70,000 hours |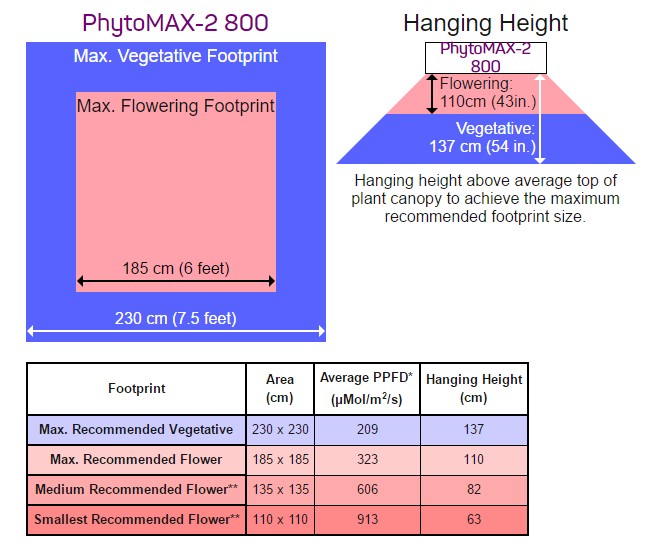 * Average PPFD measurements are over the entire footprint, edge-to-edge and corner-to-corner, based on reflective surroundings or adjacent lights.
** When growing in an area smaller than the Medium Recommended Flower Footprint, CO2 supplementation is generally required to make full use of the additional light.
In The Box
[1] x Black Dog LED - Phytomax-2 LED Grow Lights - 800 | True Watt: 840W
Phyto-Genesis Spectrum®
The most efficient spectrum for growing plants, based on over 6 years of research and testing, outperforming HPS, MH, CMH (LEC), induction, fluorescent, and "white", so-called "full-spectrum" LEDs in equal wattage tests
One ideal spectrum for both vegetative and flowering stages eliminates stalling associated with spectrum changes such as switching from MH to HPS
True full spectrum ranging from UVA to NIR (365-750nm) goes Beyond PAR™ for ultimate flowering and vegetative plant cycles
Appears white to human eyes, allowing easy determination of plant health
Targets not only photosynthetic (chlorophyll / carotenoid) peaks but also:

Increases THC, CBD, terpenes, flavonoids, antioxidants / vitamins and pigmentation with UV light
Includes near infrared (NIR) light to boost photosynthetic efficiency through the Emerson Effect
Decreases internodal spacing to direct more of your plants' energy to flowers and leaves, instead of stems
Commercial Grade LED Grow Lights
ETL certified to UL safety standards
Unique no-glass design delivers up to 8% more light to your plants
The best active heat management in the industry, crucial to maximizing LED efficiency, life, and spectrum stability
Largest heat sink among commercial LED grow lights for superior cooling and increased LED life
Whisper-quiet, long-life fans: 70,000+ hour rated lifespan
Contains no Highly Toxic Mercury
Unlike all HID (HPS, MH, CMH / LEC) and fluorescent / induction bulbs
No hazardous waste disposal fees
3-Year Replacement Warranty
If the product is faulty within the warranty period, the product will be replaced with a new one.
Please send the product to the following address on the contact us page.